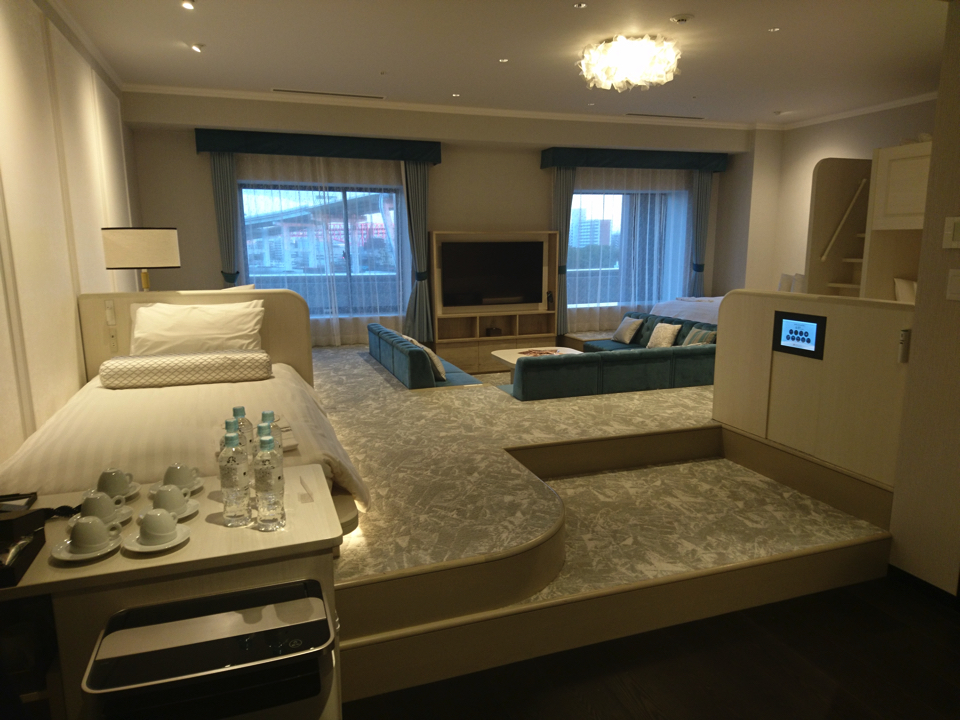 Detailed review & photos "LIBER HOTEL AT UNIVERSAL STUDIOS JAPAN"
I think most of the guests are staying to visit USJ, but there was also a live house of "ZEPP OSAKA" near the building, so I think that many people will use this hotel when live performances are held. There was also a convenience store right next to it. There is also a boat bound for Tempozan about 10 minutes on foot, so I think it's a convenient route for those who want to go to Kaiyukan. This time, the arrival time was near the evening, so I didn't go to USJ but only to University. It was just around 19:00 when the park was closed, so it was full of people returning home one after another. So the restaurant was lined up and I bought tapioca milk tea and souvenirs and went back to the hotel. For dinner, I had reserved a take-out box at the hotel restaurant, so I was able to eat in my room.
The staff alway greeted me with a smile. It was very pleasant to be able to say hello so politely, as there aren't many hotels other than luxury hotels. The customer service at the front desk was very accustomed to me, and I was able to check in smoothly. When I asked for takeout at the restaurant, I made a small mistake, but he delivered it to my room immediately.
It takes 30 seconds on foot from JR Sakurajima Station. The next station is Universal City Station, where USJ is located, but it was a 1-minute train ride and a 13-minute walk, so it was a comfortable distance. If the weather is nice, you can take a walk. JR Sakurajima station is the last and first train station, so I'm glad it wasn't too crowded. It's 130 yen per station to USJ, but even if you get tired of walking and come back, it's nice to have a hotel in front of you after exiting the ticket gate. The parking fee is 2500 yen per night, but considering the round-trip transportation costs, I think that the car may be cheaper. There is also a plan that includes a parking fee, so I thought it would be a good idea to come by car if you are traveling with small children.
It was a very big hotel which was very new. The children were delighted and satisfied with the large room. The breakfast buffet has a large number of dishes, and outdoor sofa seats and table seats are also available, so if the weather is nice, outdoor is also recommended. To use the spa and coin laundry as well as the elevator, you need a card key for your room, so I think security measures are perfect. Lockers are free, but you will need a special coin at the front desk. Ice is installed next to the vending machine near the elevator on each floor, and a container is provided to replace the ice bucket. This hotel collaborates with USJ and there are various types of rooms, so I wanted to stay in the collaboration room next time. And if possible, I thought it would be nice to have a room on the park side on the upper floor.
LIBER HOTEL AT UNIVERSAL STUDIOS JAPAN
Recommended hotels in Osaka