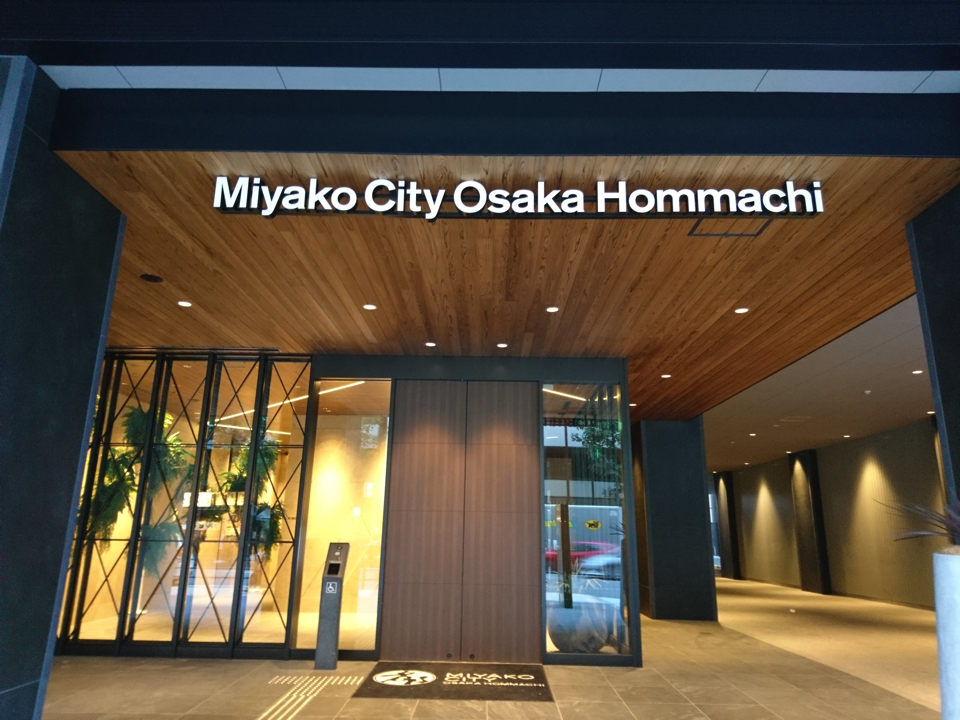 Detailed review & photos "Miyako City Osaka Hommachi"
The surrounding area is a business district, so it is very lively. Right next to the north and south sides of the hotel, there is a membership shopping center "Fanbi Wholesale" for aunts in Osaka, and 35% off the list price is a matter of course. The "Senba Center Building" on the upper floor of Sakaisuji Hommachi Station is located in Buildings 1 to 10, and there are wholesalers, so everything is very cheap. You can really feel the town of Osaka merchants. Opposite Sakaisuji, there were CoCo Ichibanya, Kitakyuhoji Shokudo, and Seven-Eleven, and there was a supermarket "Life" on the north side, Sugi Pharmacy, and a 24-hour supermarket "KOHYO" on the south side. There are many shops that businessmen use for lunch during the day, so I think it's a very convenient place.
The staff who checked in at the front desk was a foreign staff, but they were very fluent in Japanese. Since it was a four-day holiday, many of the guests were families with children. Also, there were some businessmen who were on a business trip and couples.
This hotel is located in the center of Osaka, so I think it is very convenient for transportation. The nearest station is Sakaisuji Hommachi Station on the Subway Sakaisuji Line and Chuo Line, but you can also walk to the neighboring Midosuji Line Hommachi Station. You can also walk to Nagahoribashi in the south. If you walk to Nagahoribashi, you can reach Shinsaibashi, and you can go to various places within walking distance. Sakaisuji Hommachi Station Exit 7 has only stairs, so the escalator is easy to reach from inside the Senba Center Building. However, the Senba Center Building is closed on Sundays and holidays, so heavy luggage should be careful.
It's been less than 3 months since this hotel opened, so I'm very happy with the new, bright and comfortable room. I could relax in my room and relax in the lounge "BLOOM", so I wanted to stay relaxed in the hotel without going outside. This time, I mainly shopped at Funbi Temple, so I did a lot of shopping, but I was able to leave my suitcase in the self-baggage room next to the front desk, so my luggage did not get in the way even after checking out. I had a very enjoyable stay at this hotel.
Miyako City Osaka Hommachi
Recommended hotels in Osaka