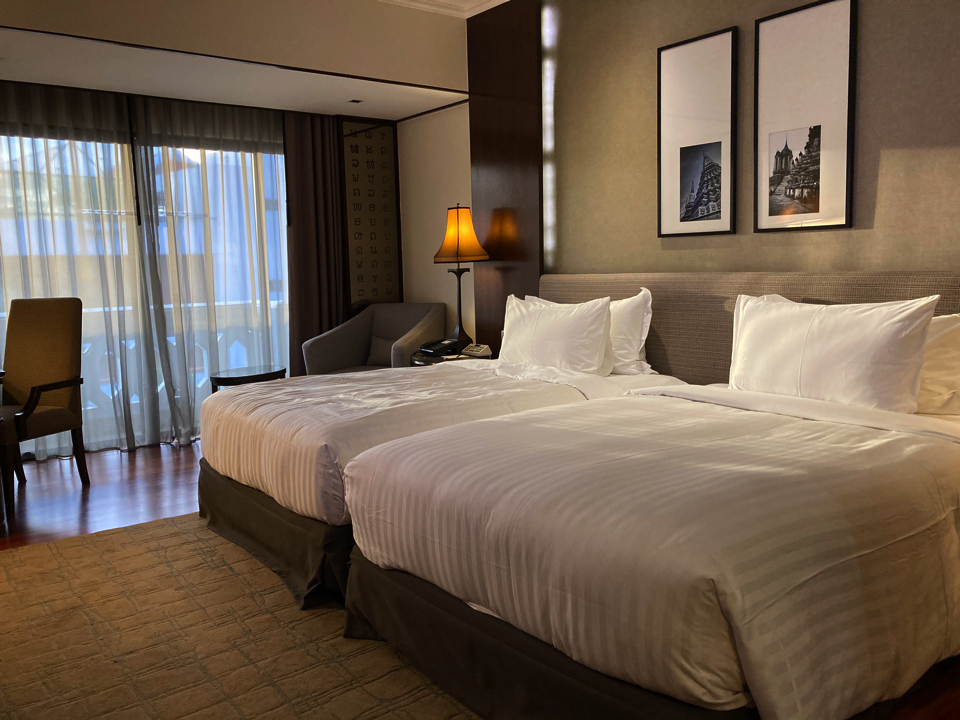 Detailed review & photos "Anantara Riverside Bangkok Resort"
There were various restaurants in the hotel.
If you want to go somewhere, you have to take a taxi or a boat, as there is only a shopping mall in the vicinity of the Avani Hotel. There is a Thai Chinese restaurant called "Chef Pom" within a 5 minute walk from the hotel and was quite delicious. Also, if there is an accident such as theft, there is a police station just outside the hotel, so you can get a police report immediately. There is a 7-Eleven behind of Avani Hotel. Avani Hotel has a shopping mall below, and there are various shops such as Starbucks and clothes shops.
The hotel staff's response was good, but I felt like they were panicking due to the lack of workers. When I complained about not being able to check in right away they gave me a voucher of 500 Baht (about 1800 yen) and arranged late check out until 16:00. I used the voucher for the rooftop bar "Seen" of the neighboring Avani hotel, but I was satisfied because I gave it to -500Baht when I checked out.
You can take a taxi and get to the airport in about 20 minutes. Alternatively, take the free shuttle boat from Pier at BTS Saphan Thaksin station to your hotel. There are also free boats to the Asian Teak complex, such as the night market. I think that the area around the hotel is safe, but the roads are dark with wild dogs sleeping here and there.
Overall, I had a nice stay at this hotel. Due to Covid 19, some restaurants were closed and there were not enough workers in the hotel. The nice thing about this hotel was that the lobby was big, the atmosphere of the pool was nice and service were good. The staff at Número Uno Cafe were very helpful. The price range for one room is 4000 Baht, which is neither cheap nor overpriced. This is a 5 star hotel, but I will have to say that it is not as high class as the "Mandarin Oriental Hotel."
Anantara Riverside Bangkok Resort
Recommended hotels in Bangkok