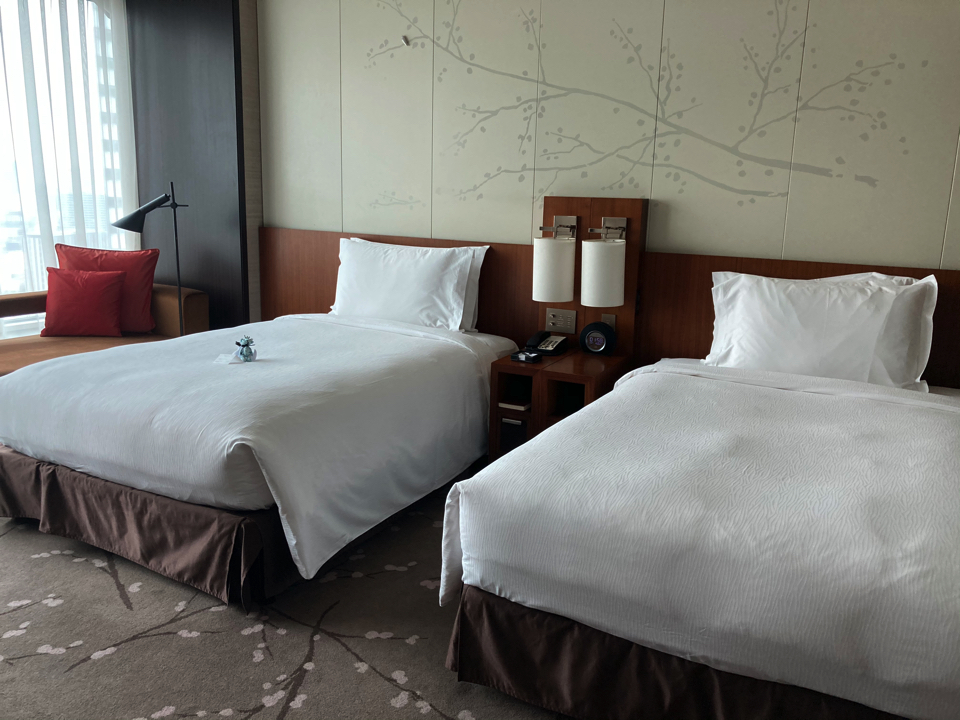 Detailed review & photos "Conrad Tokyo"
Perhaps because of the influence of corona, I think that office workers usually go in and out, but no one was walking around. Despite being an office district, it was a quiet town and I felt very comfortable. However, I got the impression that there are not many restaurants, so if you want to eat out, you should probably go to Yurakucho or Ginza. I don't think there is any problem at the convenience store because there is a high-class family mart in the basement of the hotel and also in the underground shopping area of ​​Shiodome Station.
The staff were all very attentive. They will help you as soon as you walk into the lobby. They were also very kind towards the elderly and children, and I was impressed with their hospitality.
It is about a 10-minute walk from Shimbashi Station. Also, since Shiodome Station is connected underground, it will be easy to get there without getting wet when it's raining. If you go from Shimbashi Station, it is difficult to climb and get off the pedestrian bridge, so I recommend going from Shiodome Station. I also recommend shopping at a convenience store under the hotel or going to Ginza because it is about a 15 minute walk to Ginza.
I had a very nice stay at "Conrad Tokyo." I enjoyed the extraordinary days of being in Tokyo, and this is a perfect hotel for an occasional refreshment. However, the problem with this hotel is that the Wi-Fi cannot be used. It seems that if you are a member of Hilton you can use it for free, but if you are not a member you will have to pay. Everything else about this hotel was very satisfying. In the evening, the staff will come to make beds and the room is always tidy. Also, the bathroom and bathtub are located at the same place, but when the speakers installed are turned on the sound of the TV will flow into the bathroom. I could also swim in the pool until late at night. I enjoyed my self so much that I would have loved to stay a little longer.
Recommended hotels in Tokyo