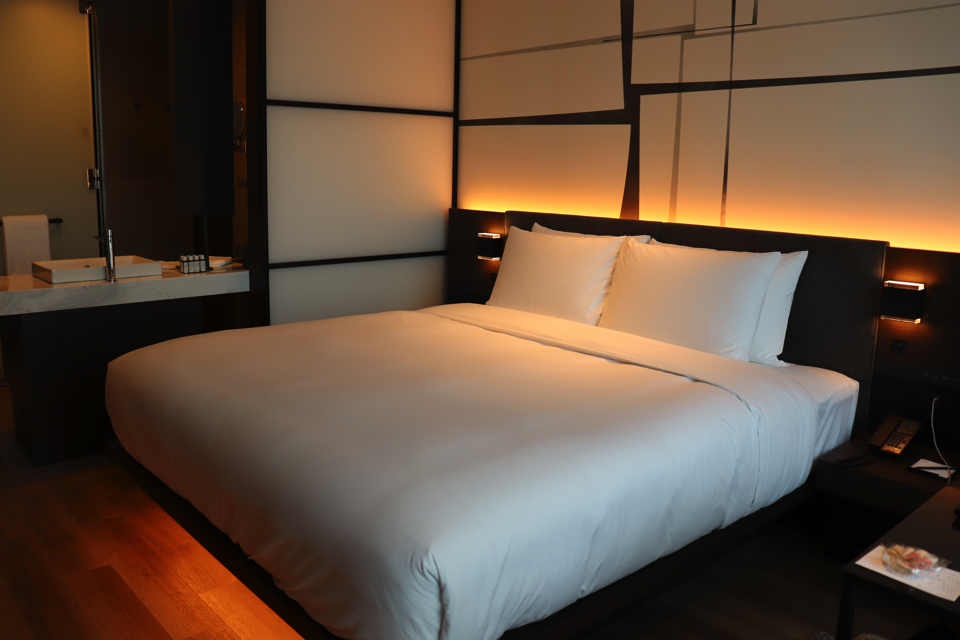 Detailed review & photos "AC Hotel Ginza"
Review Contents
Stay Info
Room type:Superior 1 King City View Room
Stay nights:1 night
# of people:2 people

"AC Hotel Tokyo Ginza" just opened in July 2020. This is a lifestyle hotel that originated in Spain and first started in Japan under the Marriott brand. Located in the center of Ginza, you can expect a calm and elegant stay in a sophisticated, modern and stylish space.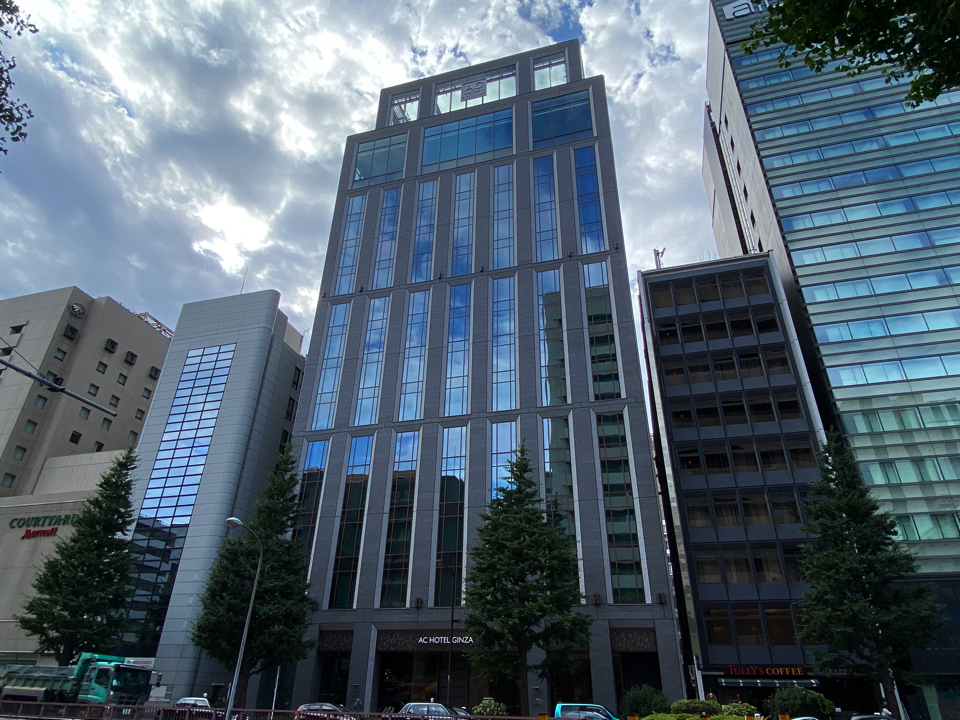 The hotel faces Showa Street and is a 14 story tall new and beautiful building.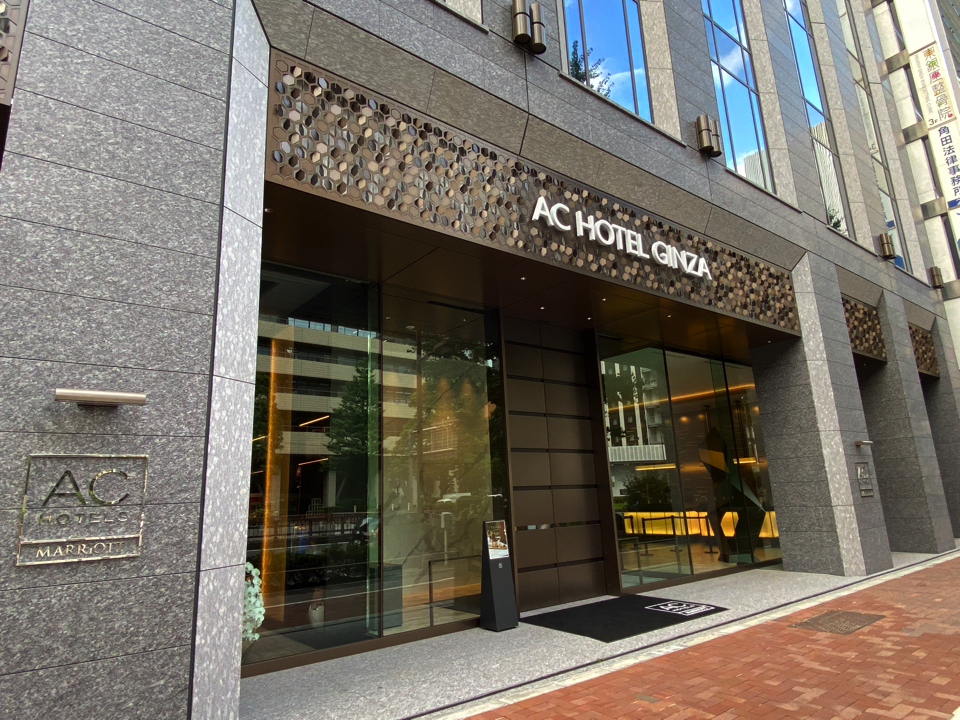 A modern entrance that blends in well with the cityscape of Ginza.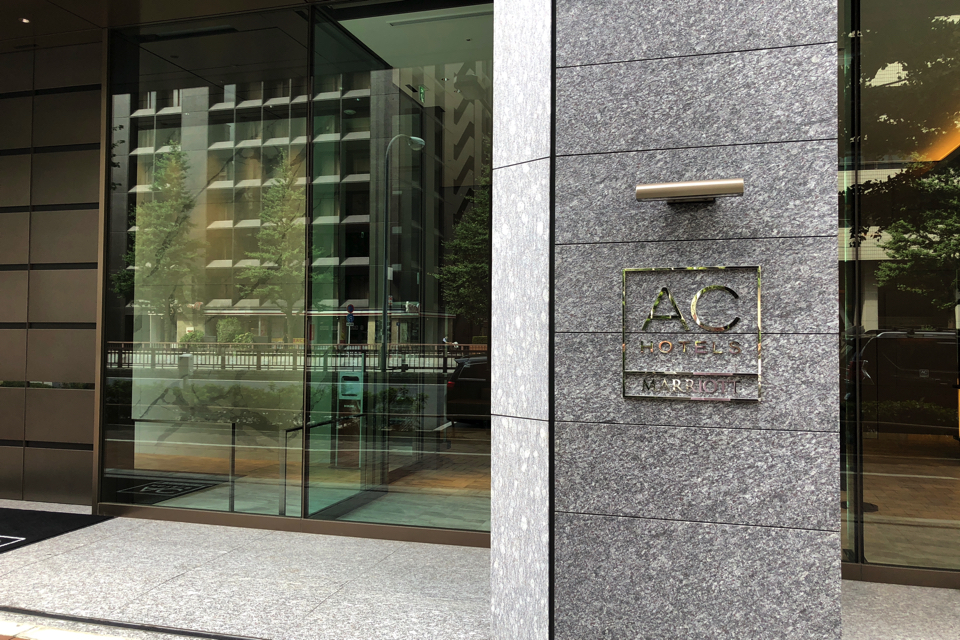 Hotel sign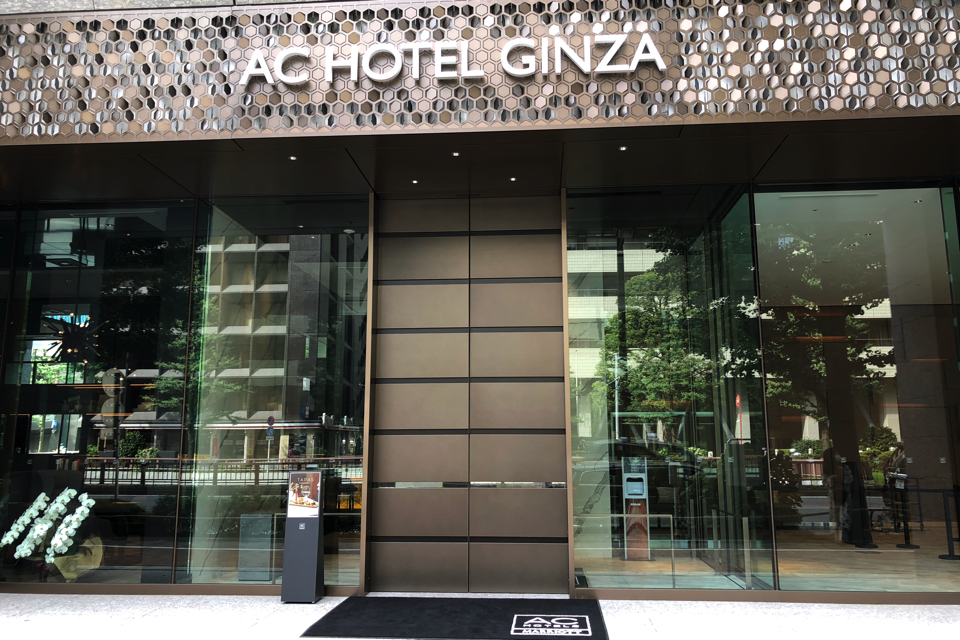 The entrance had a double door.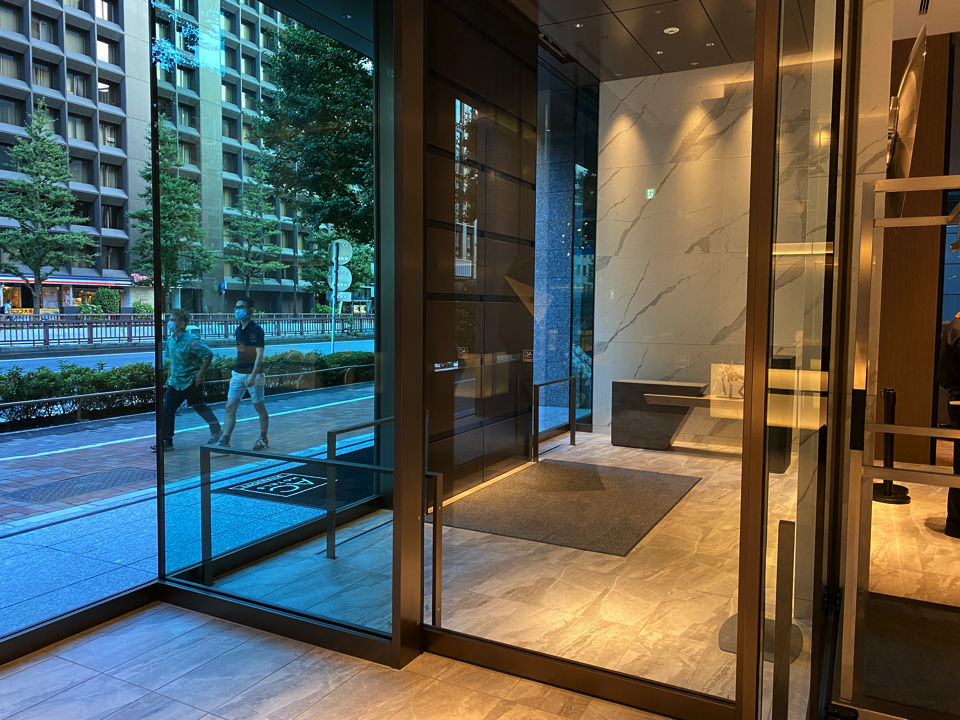 The entrance seen from the inside of the hotel.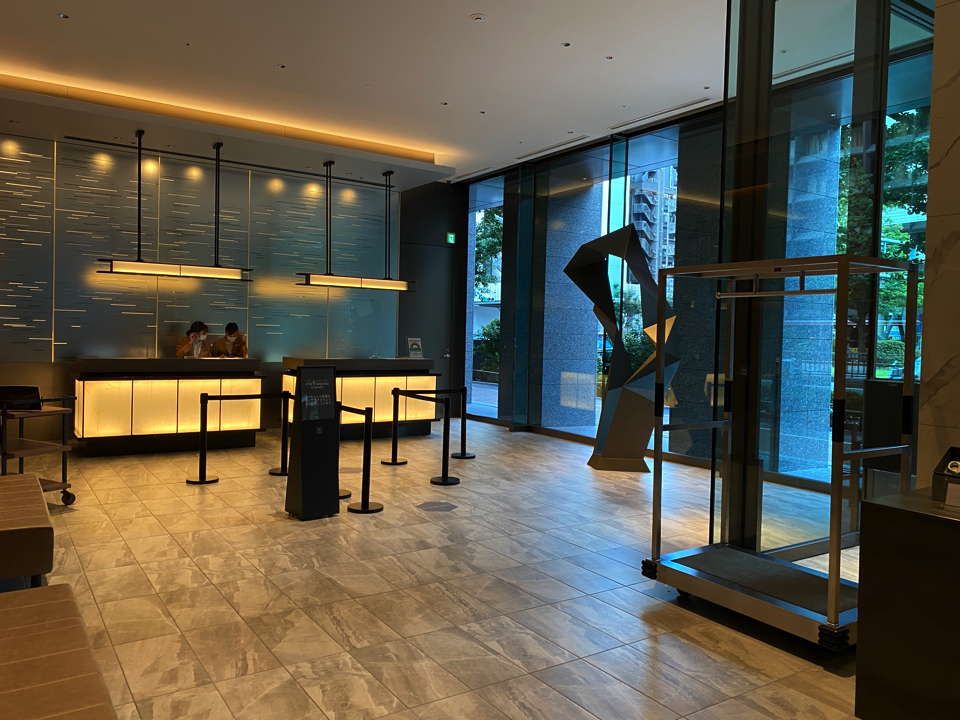 It was modern and relaxing in the lobby. It was not a big lobby, but the big windows made it fell wider.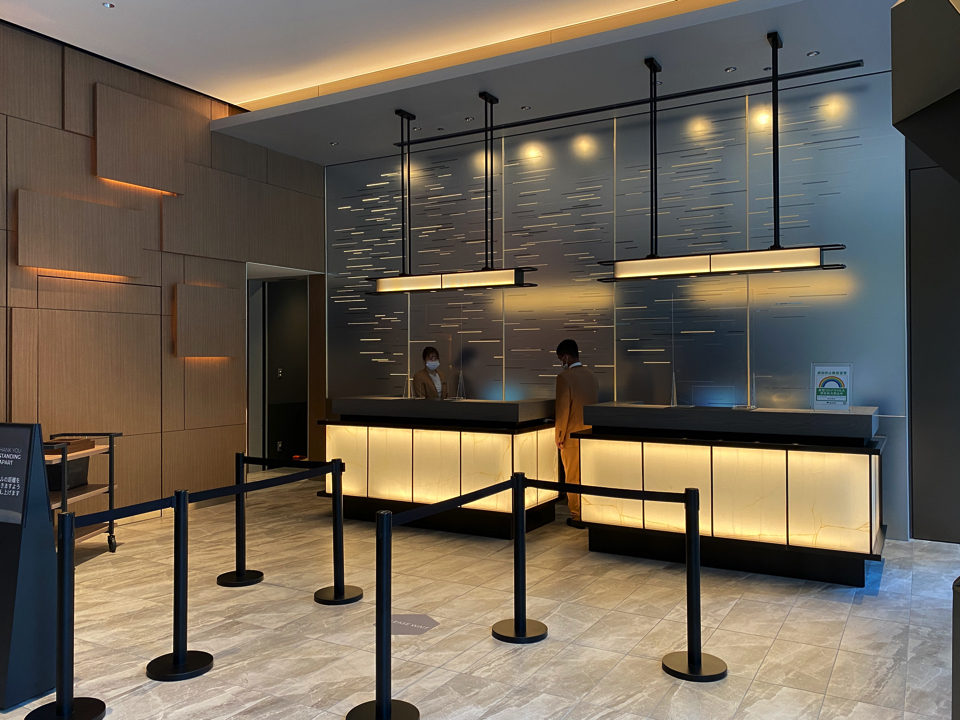 Front desk.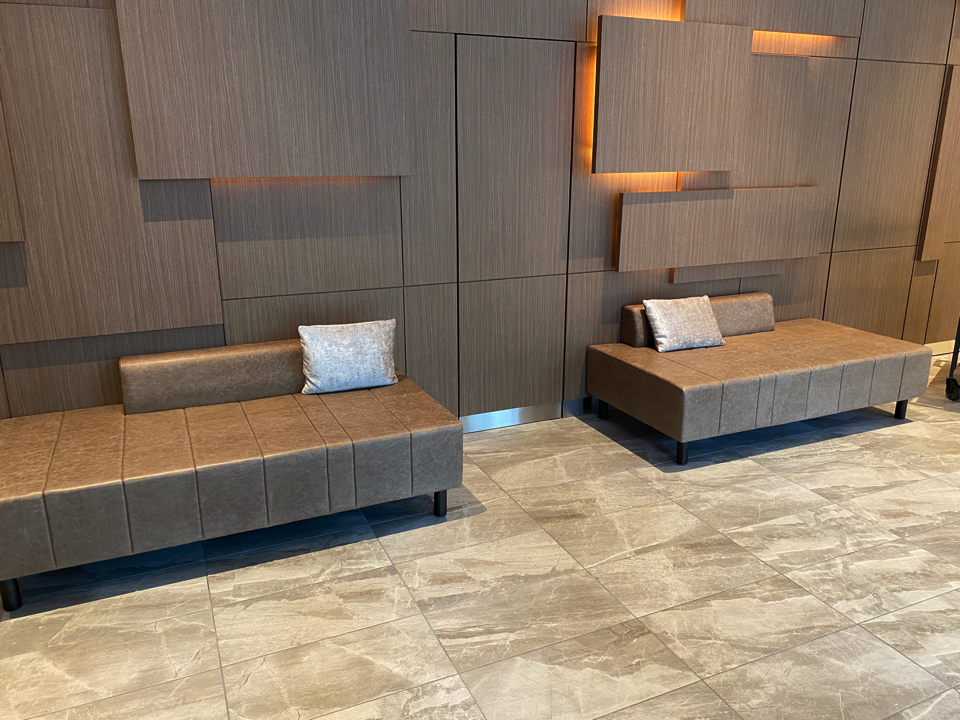 Sofas in the lobby.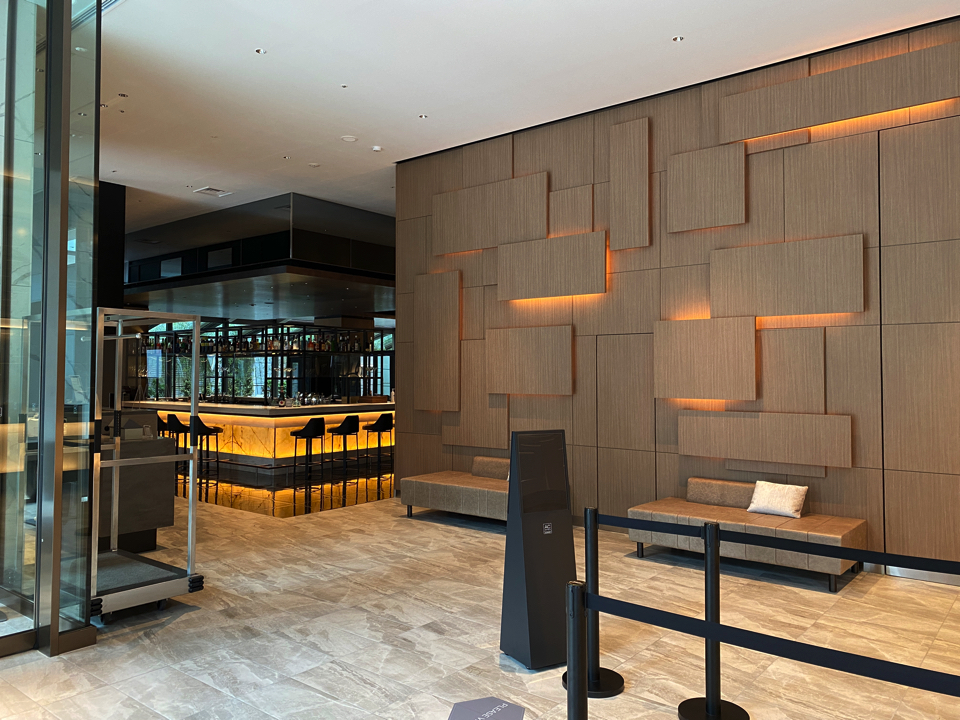 The AC lounge and the AC kitchen were connected with the lobby.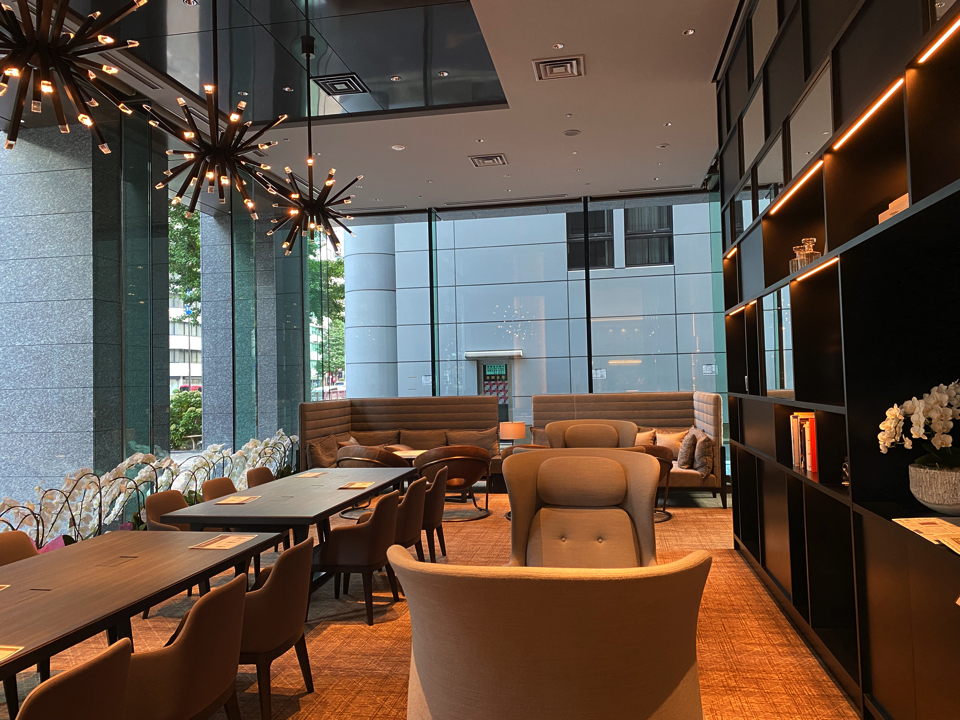 Library lounge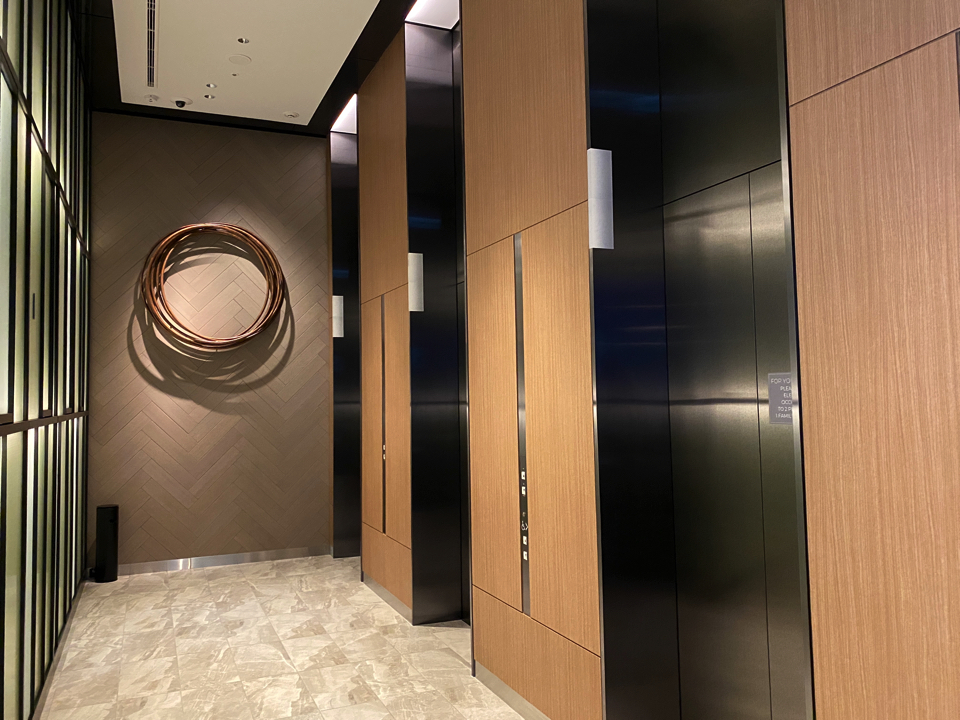 Lobby floor elevator hall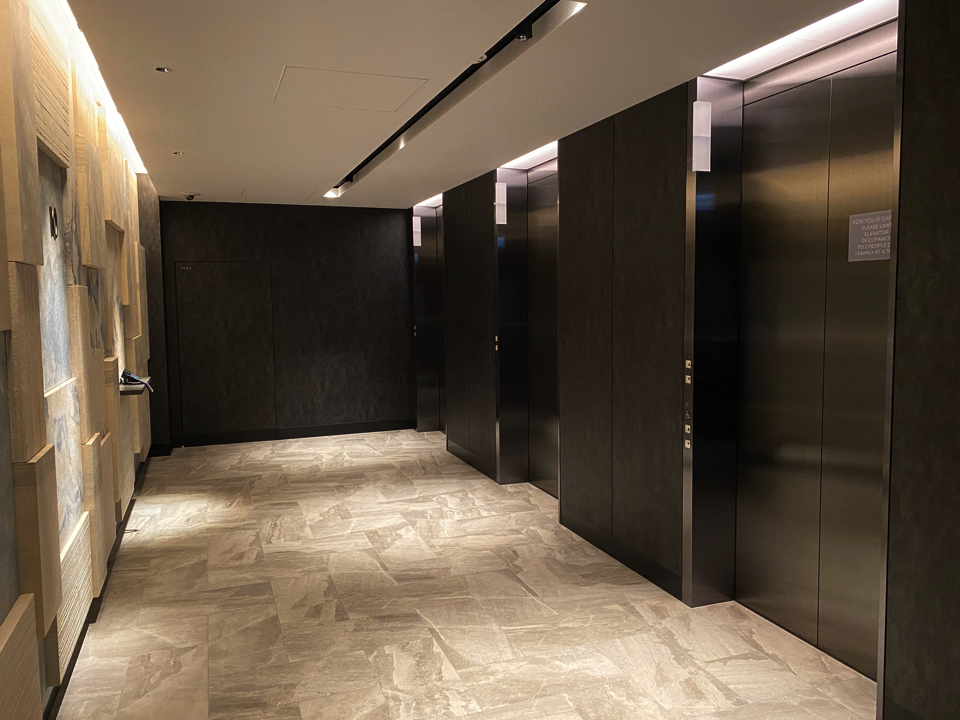 Guest room floor elevator hall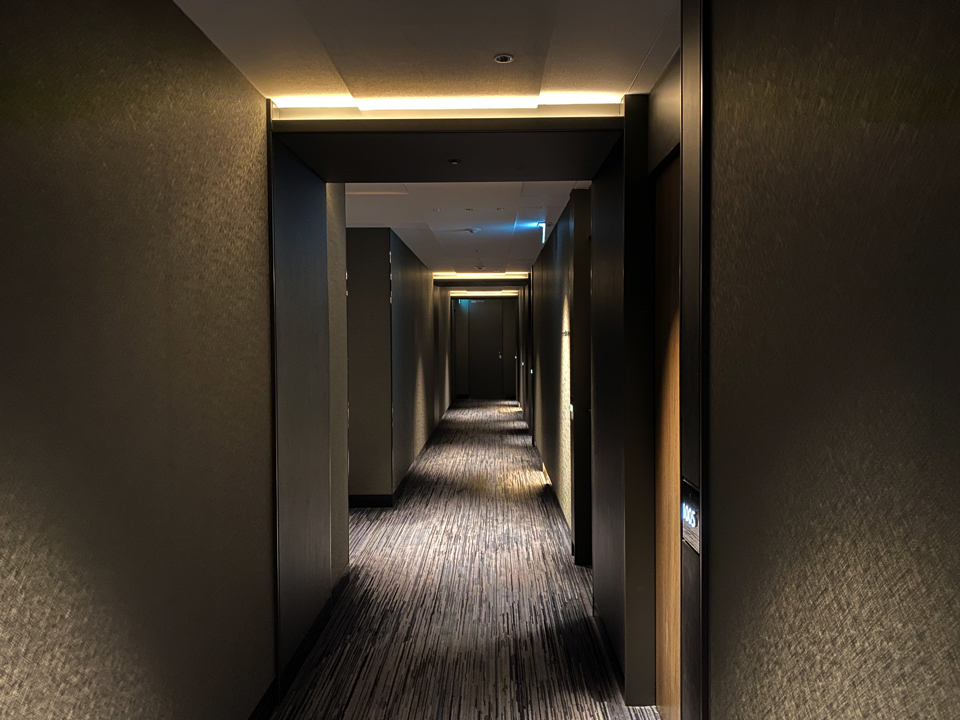 Guest room floor corridor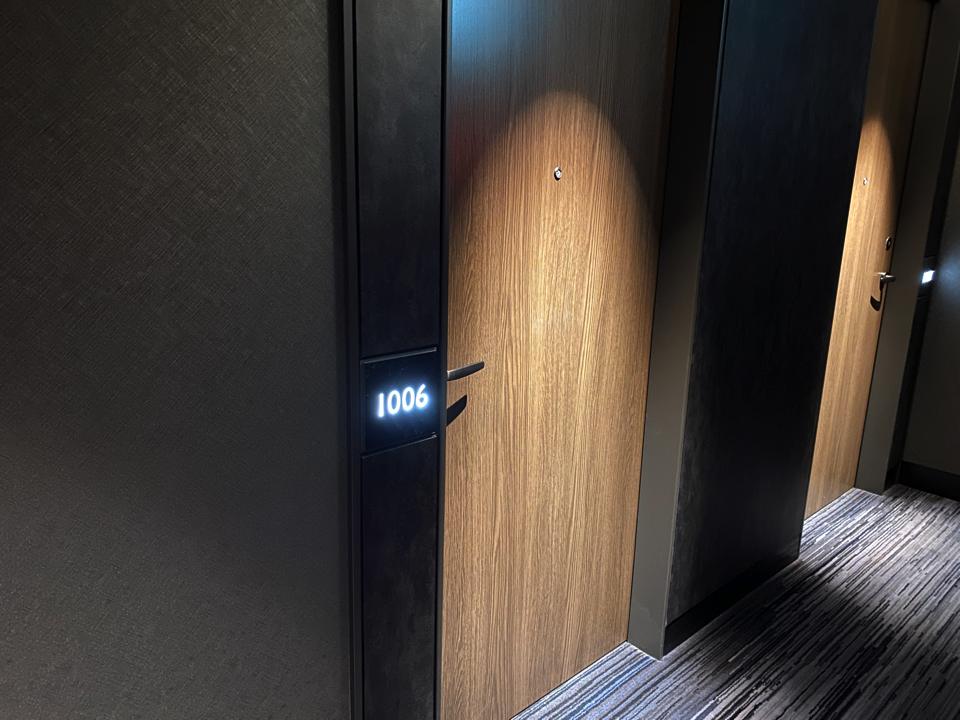 Guest room entrance door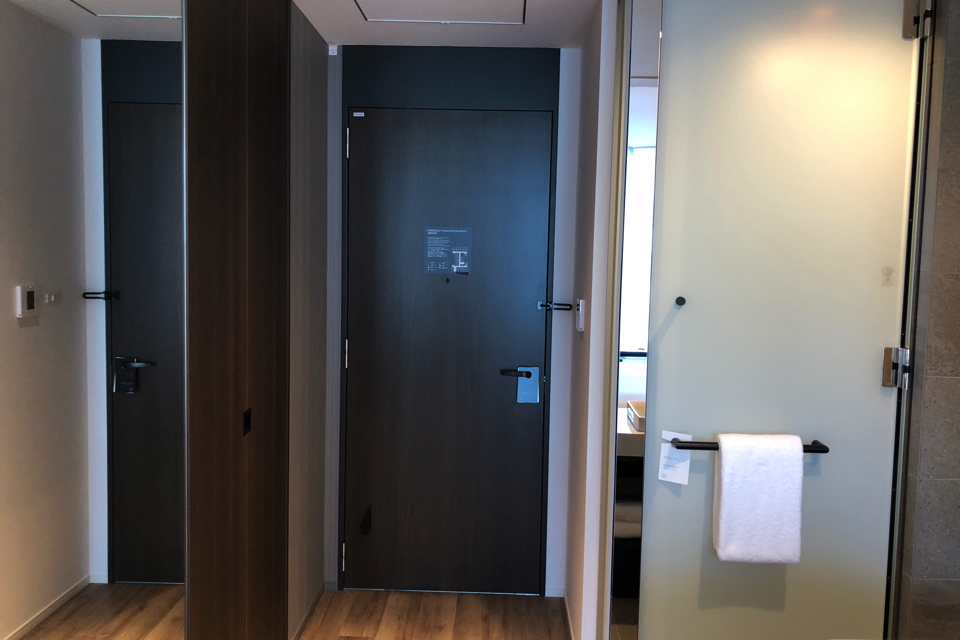 There was a closet on the right and a bathroom on the left.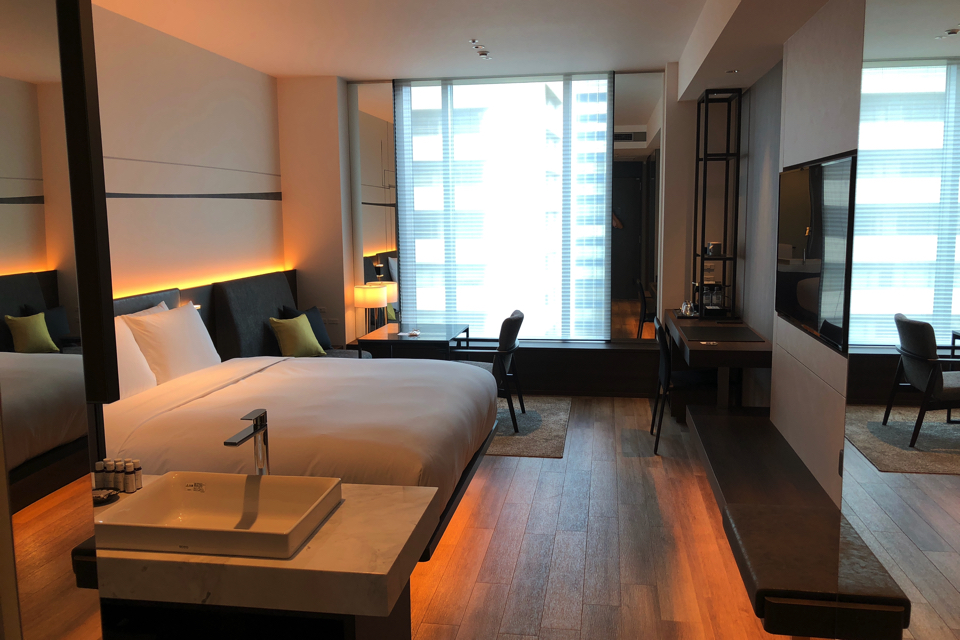 The modern room was about 30 square meters wide. The design was simple and functional with mirrors placed here and there creating a stylish room.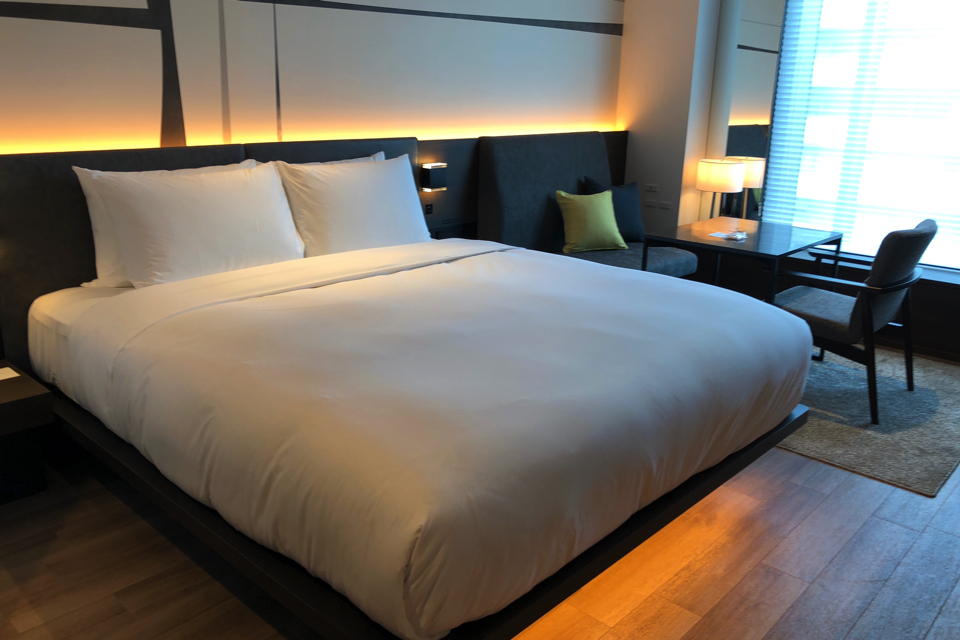 The king size bed was big and comfortable to sleep on.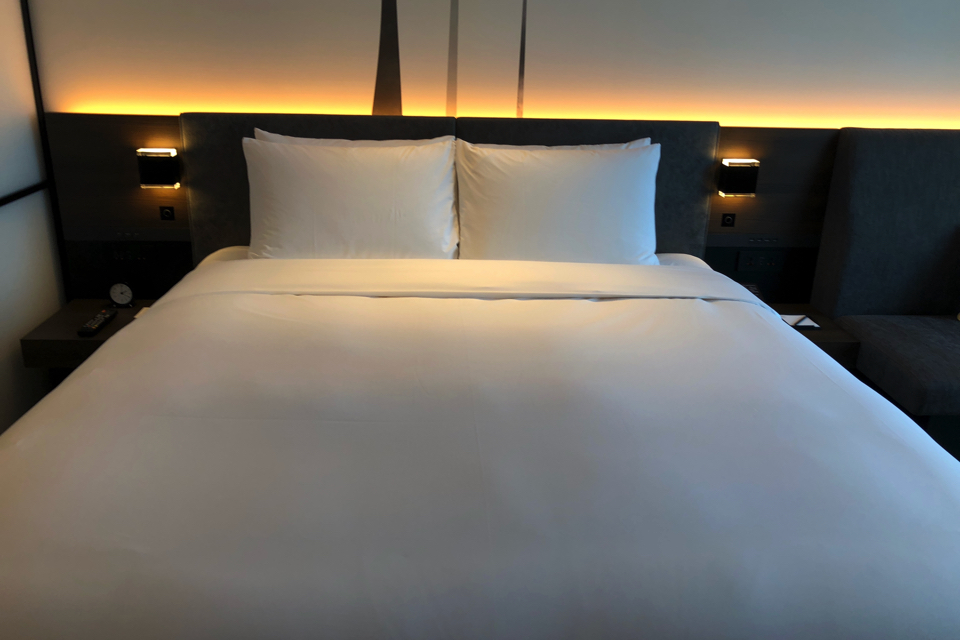 Four pillows were prepared on the bed.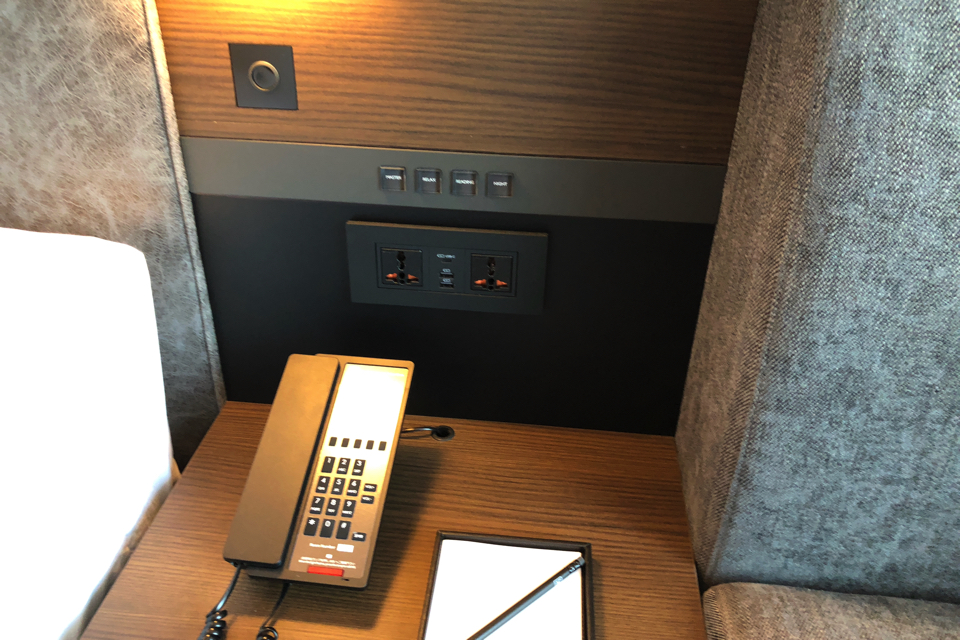 There were nightstands on each side of the bed, each with its own light switch, universal outlet and USB port. There was also a Type C USB port which was very convenient.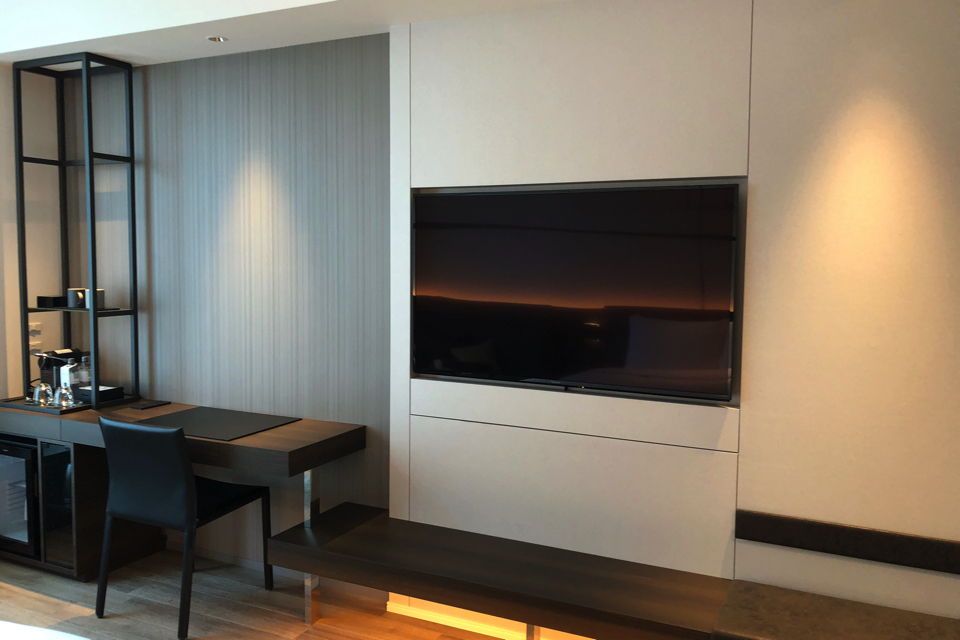 A 55 inch TV across the bed, and I was able to watch TV from both the bed and sofa.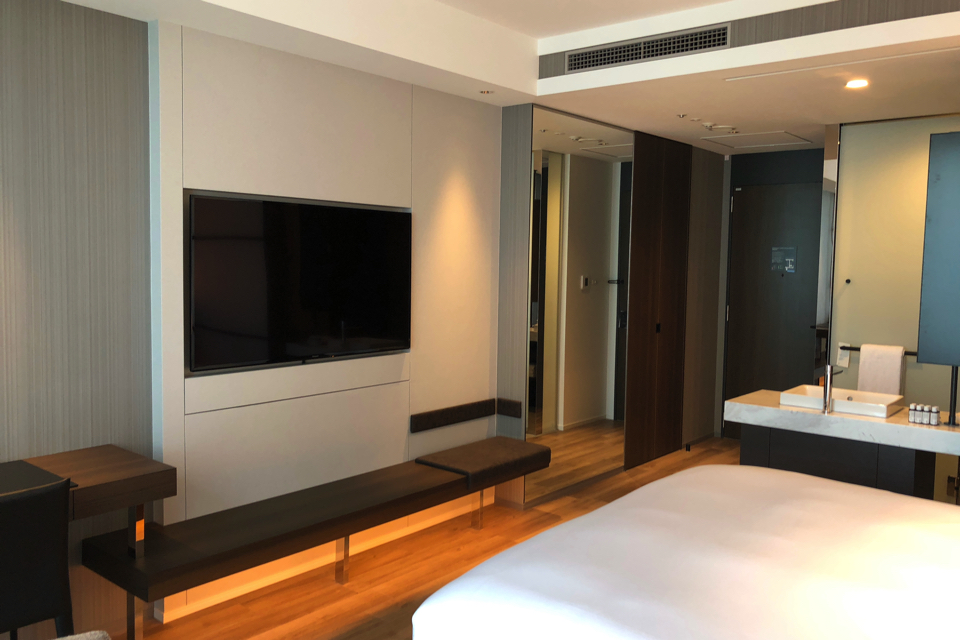 A bench underneath the TV.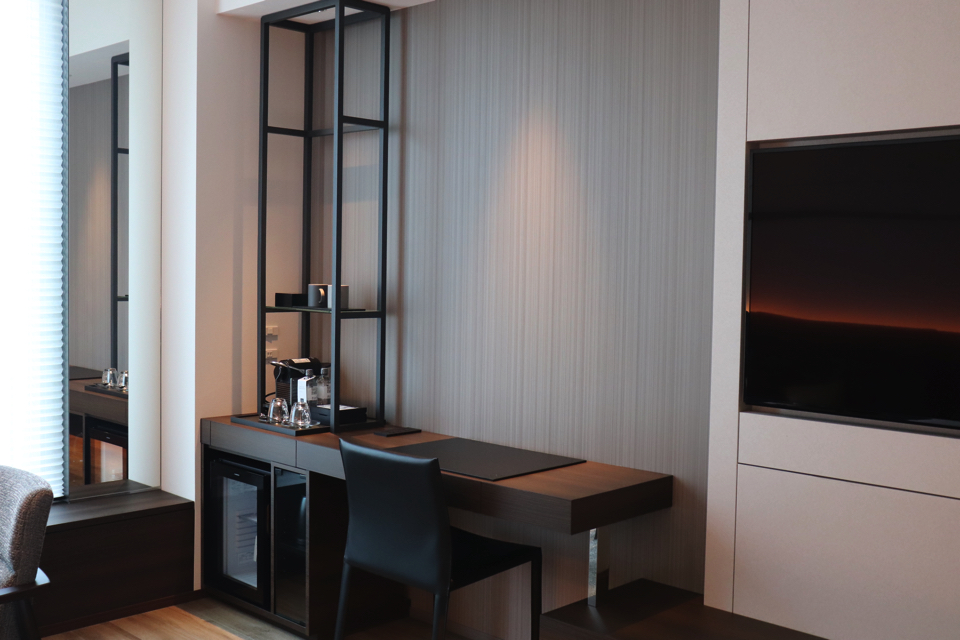 A desk next to the TV.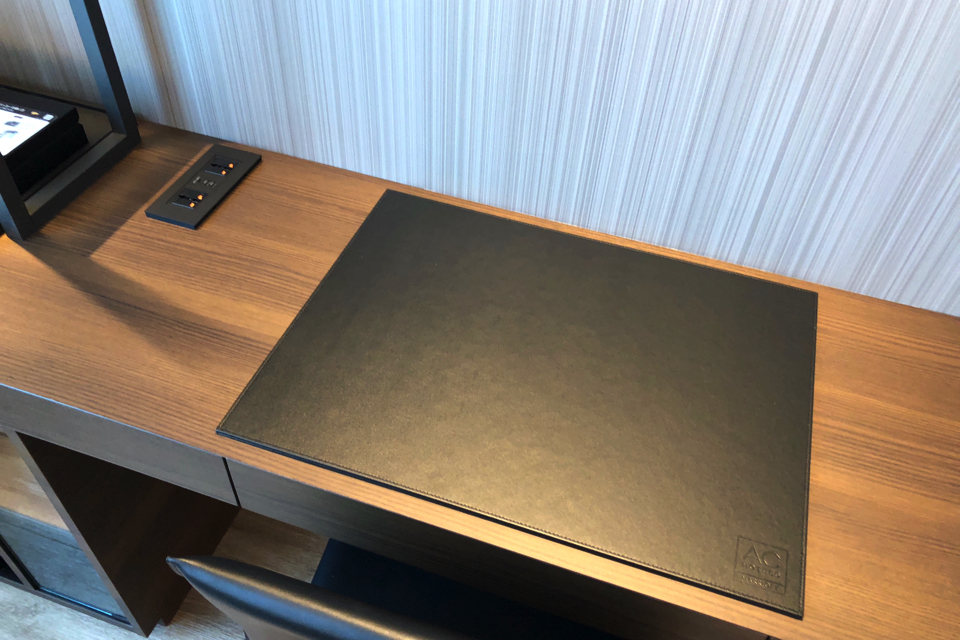 There was plenty of space to do some work on the desk.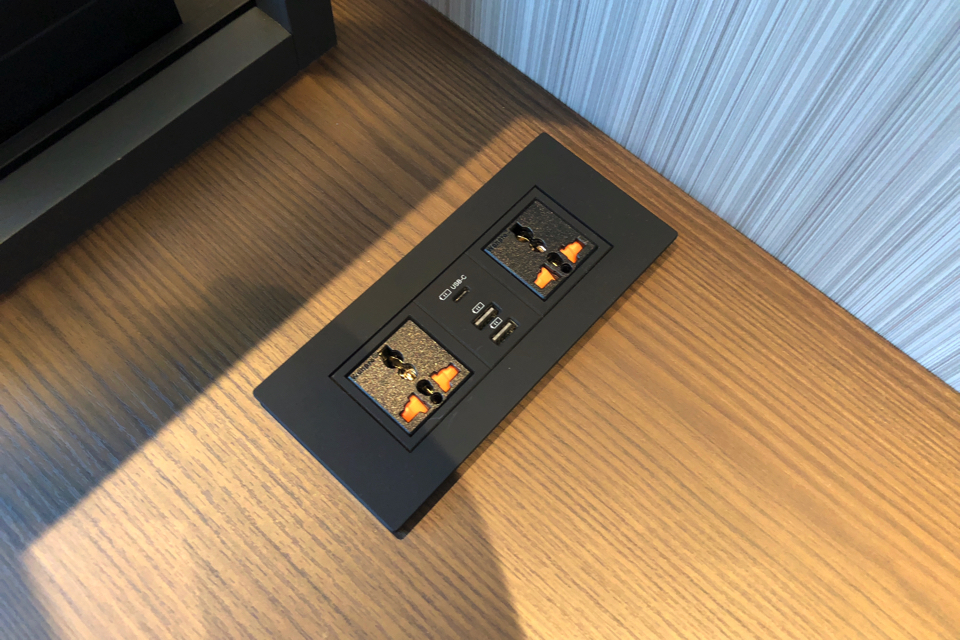 There was a universal outlet, USB port and a Type C USB port on the desk. There were outlets all around the room which was convenient.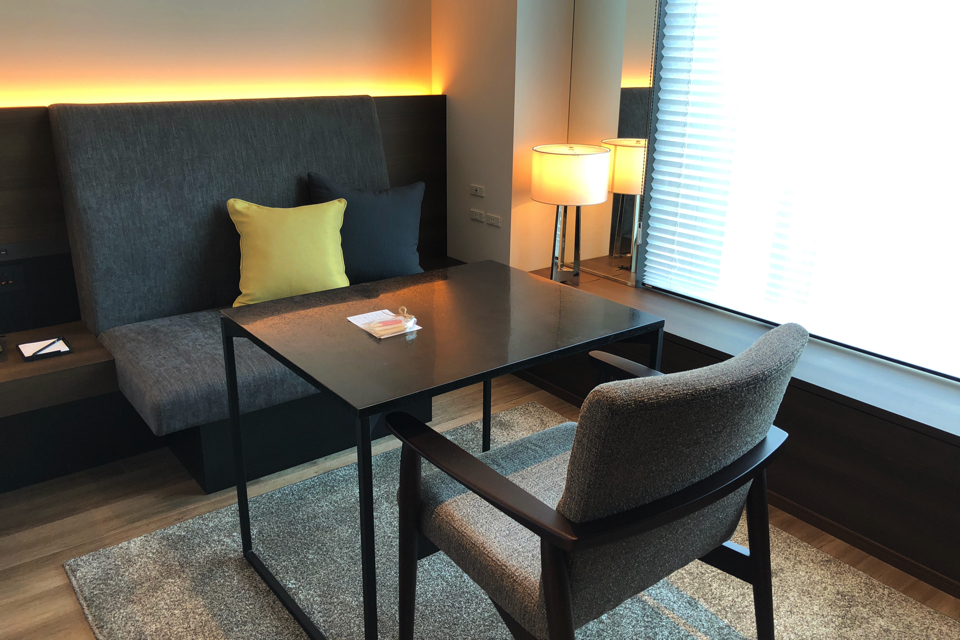 Next to the bed was a relaxing seating area with a big table and chairs.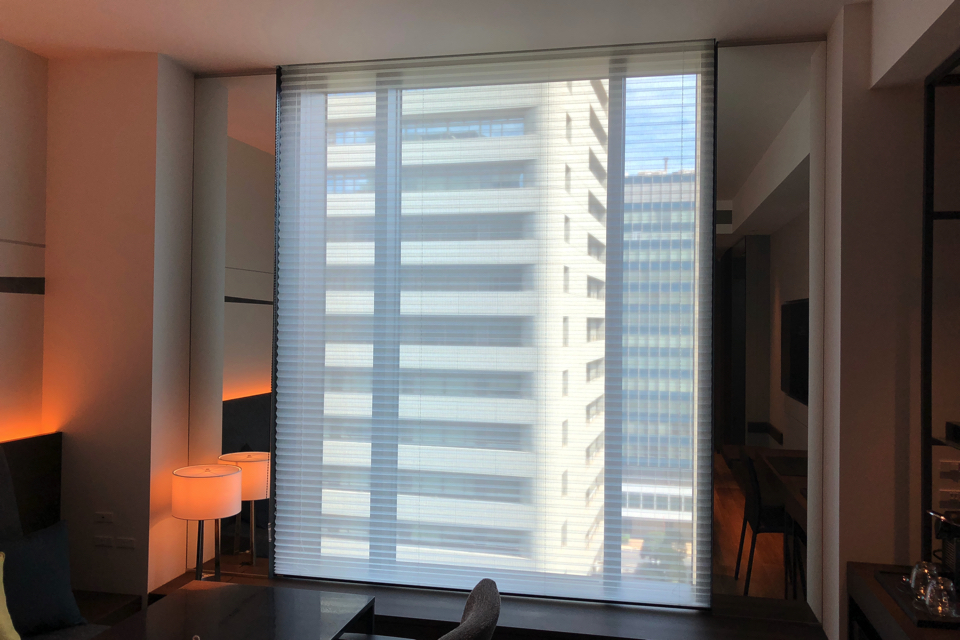 There was a large window with lace screen and a screen that completely blocks out sunlight.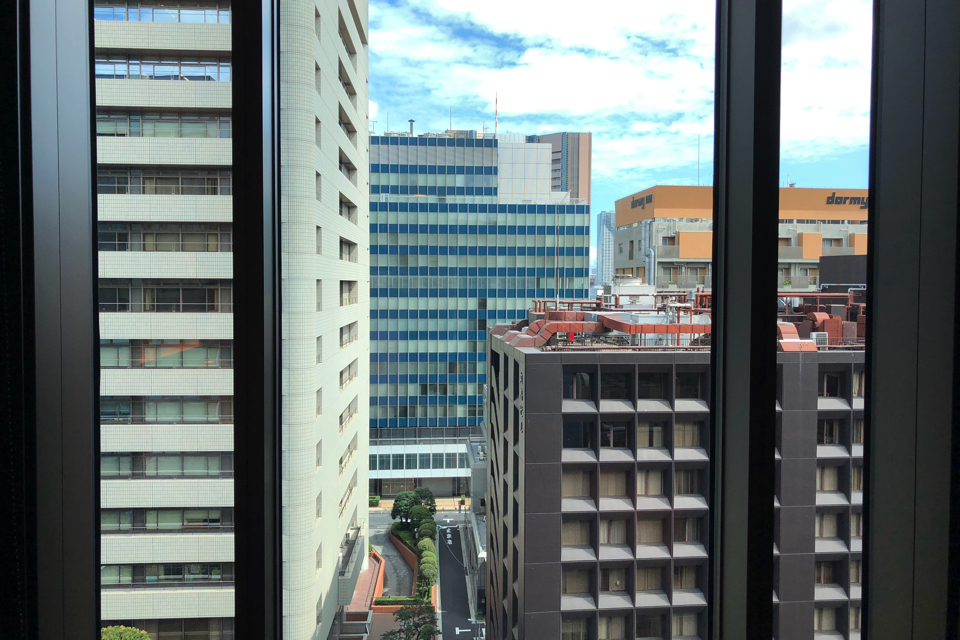 There was a big building across the street and the view from the window wasn't particularly good, but it wasn't bad either. I was able to enjoy the view of the cityscape.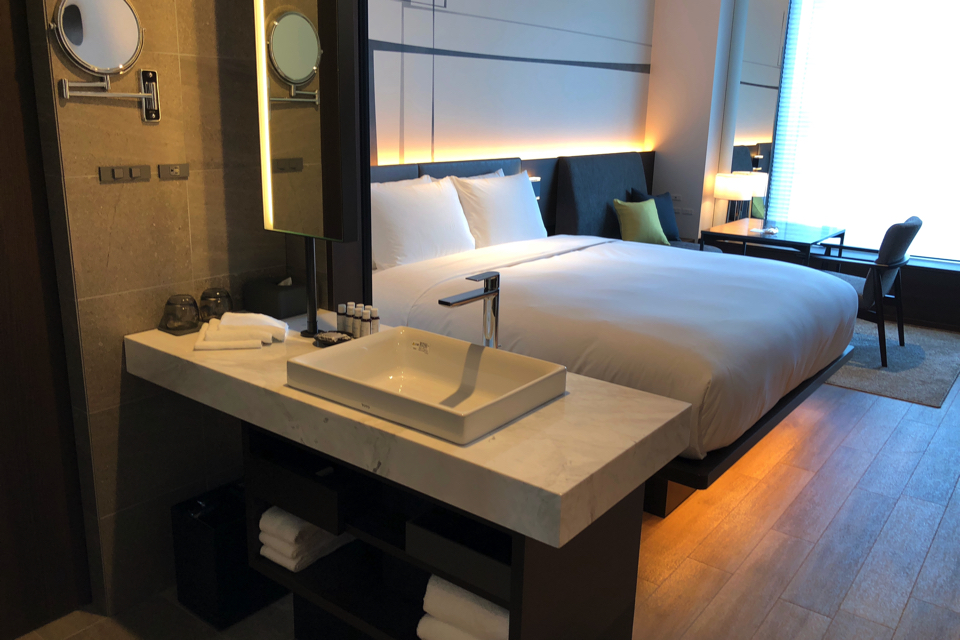 There was a shower room, toilet and sink all separated.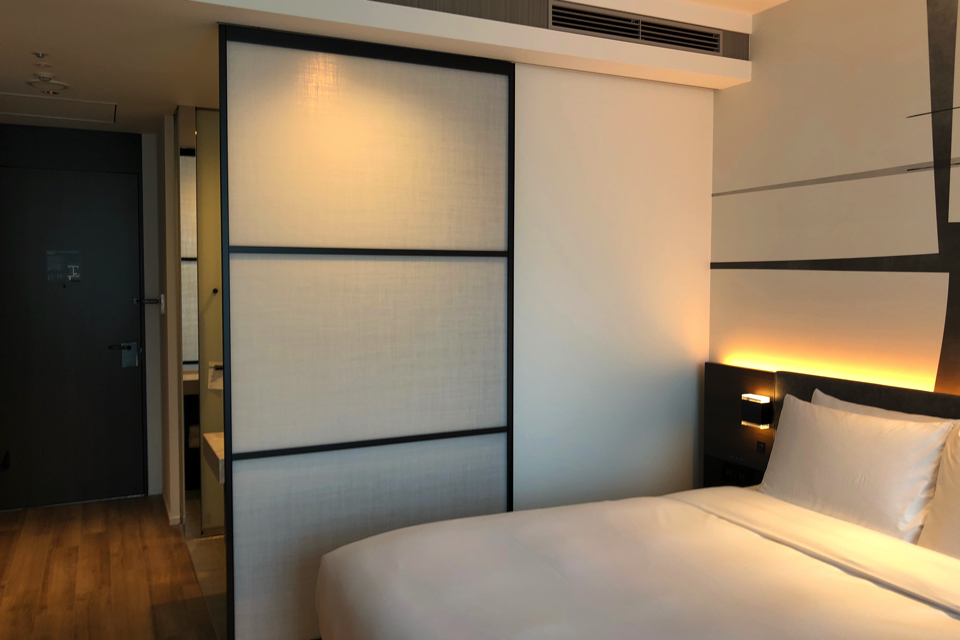 You can close the sliding door to get some privacy when using the sink.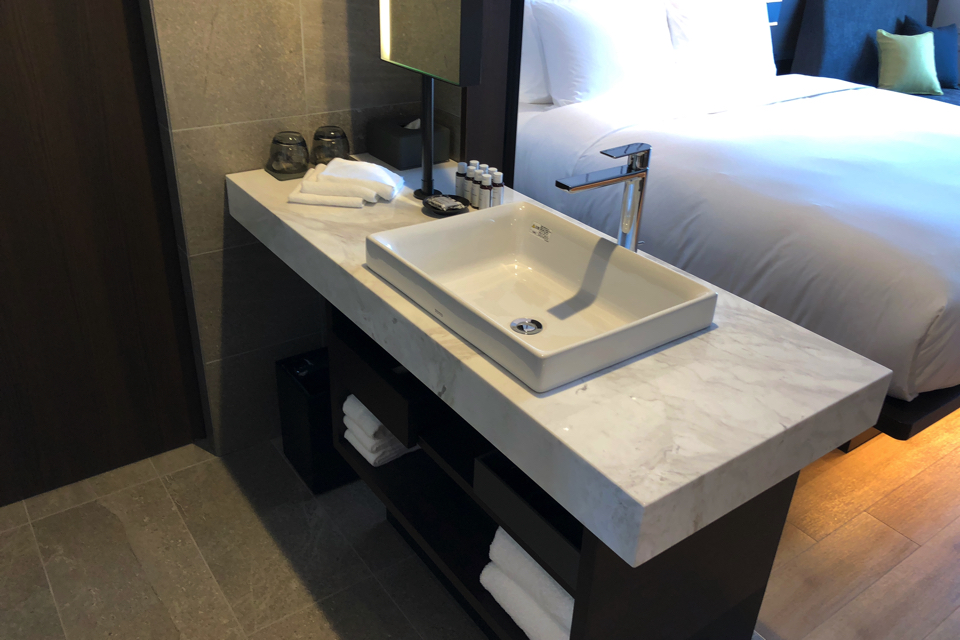 There was plenty of space to put my belongings next to the sink.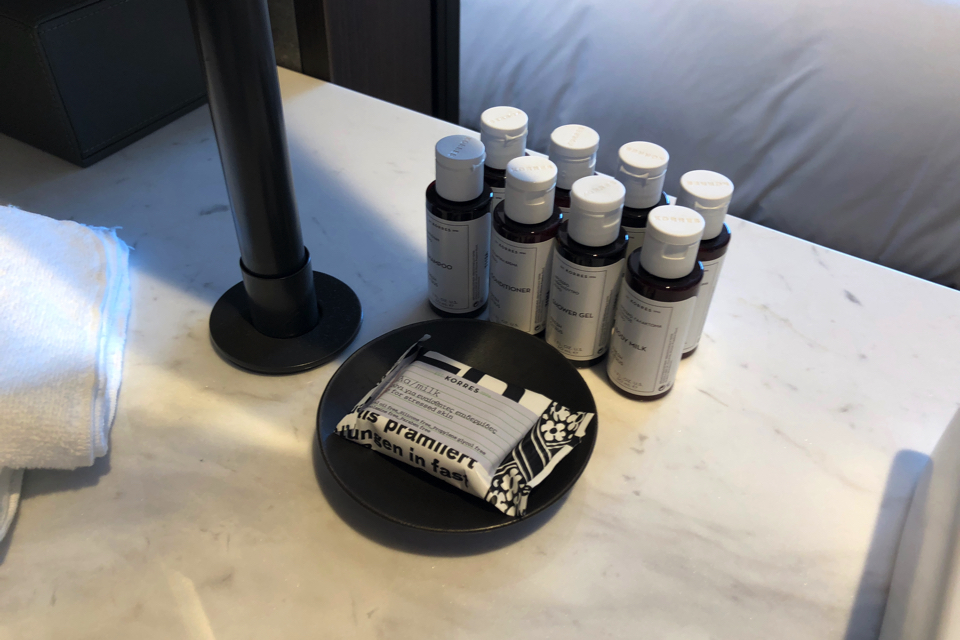 Bath amenities included Choles shampoo, conditioner, shower gel, body lotion and a bar of soap. It is a natural brand product from Greece with a strong smell, but very refreshing.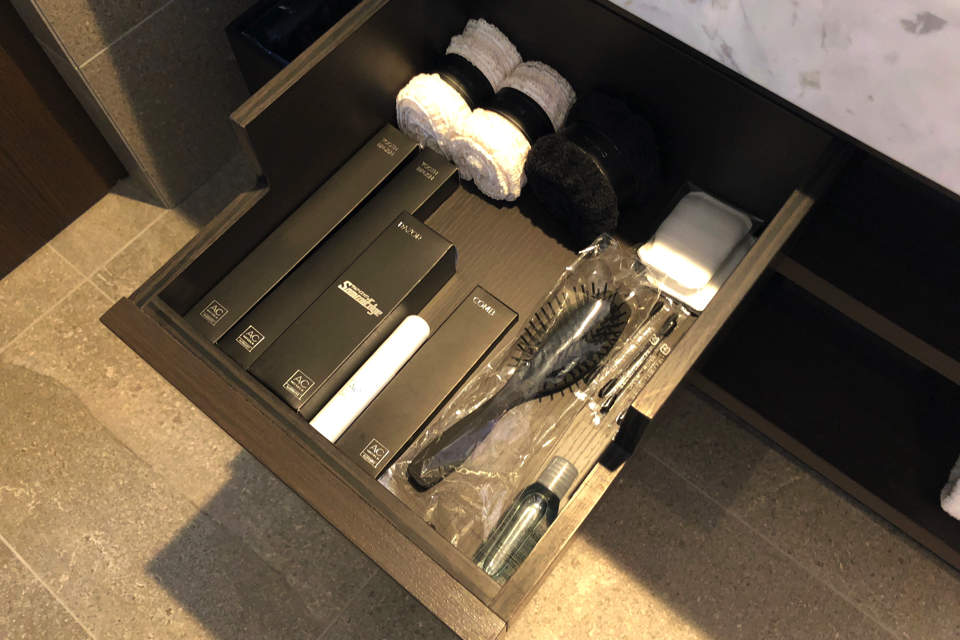 There was a toothbrush, razor, shaving foam, comb, hairbrush, mouthwash, cotton swab, cotton, body wash towel and hair band prepared as an amenity.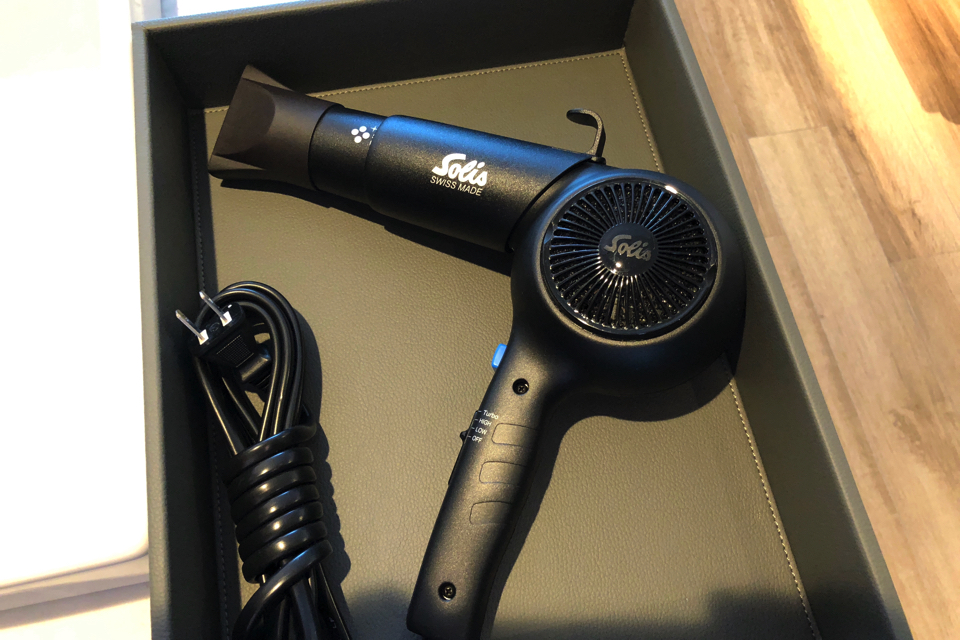 The hairy dryer was strong and very easy to use.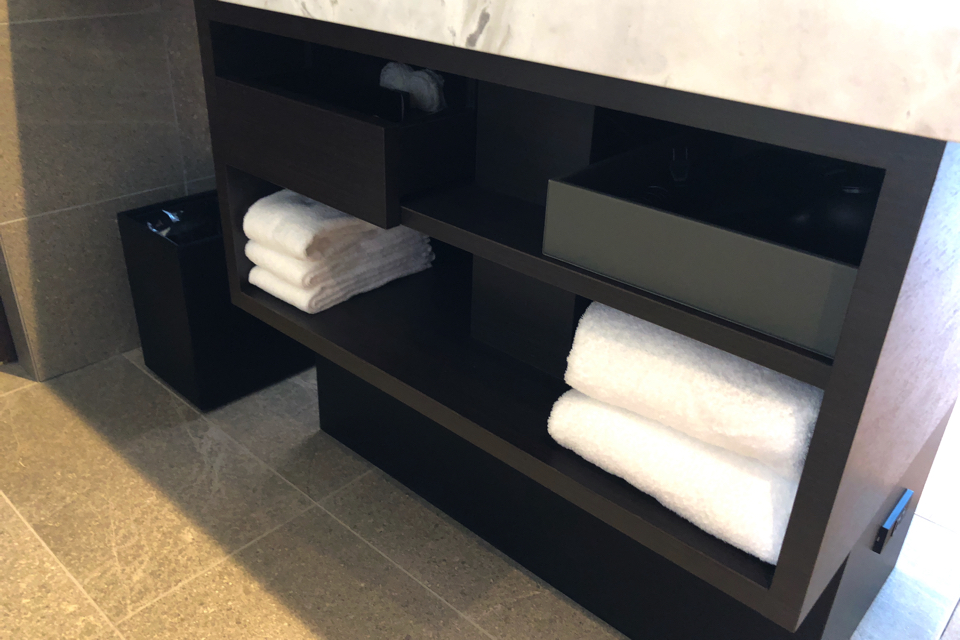 Bath and face towels were under the sink.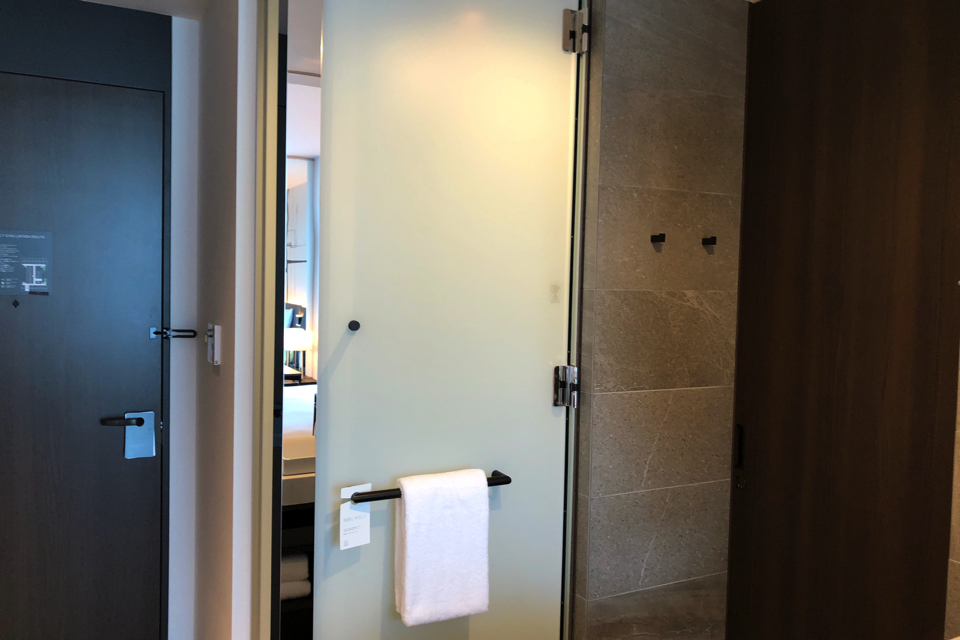 The shower room was across the sink.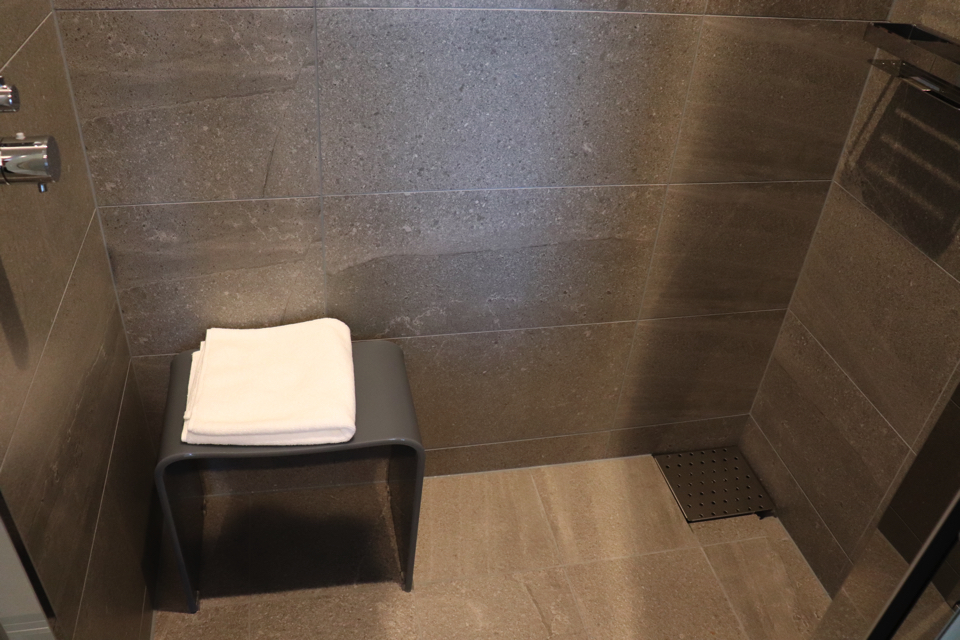 There was a stool to sit on.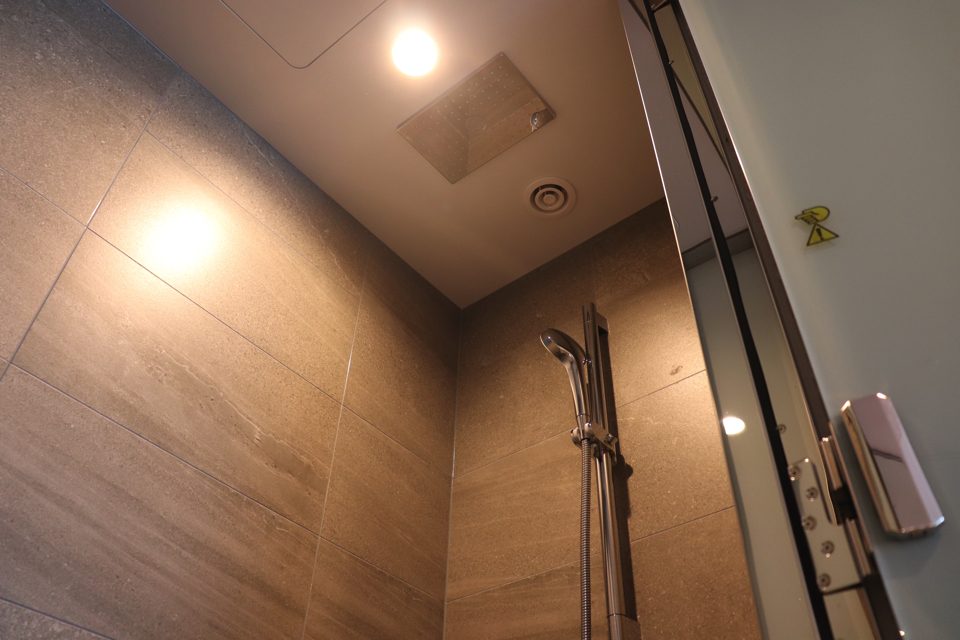 There was a rain shower and a removable hand shower, both of which have strong water pressure.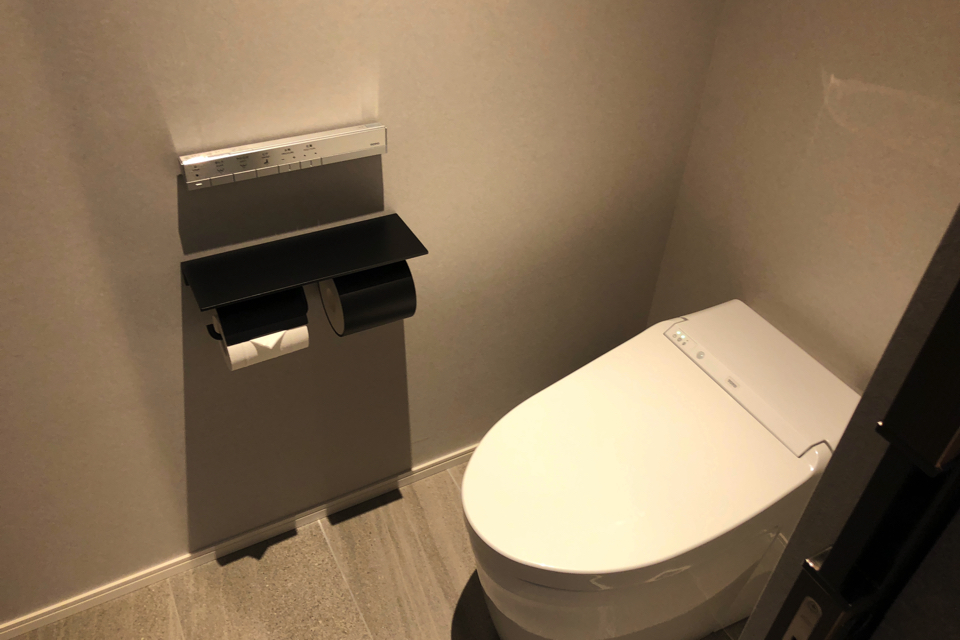 A toilet with a washlet function.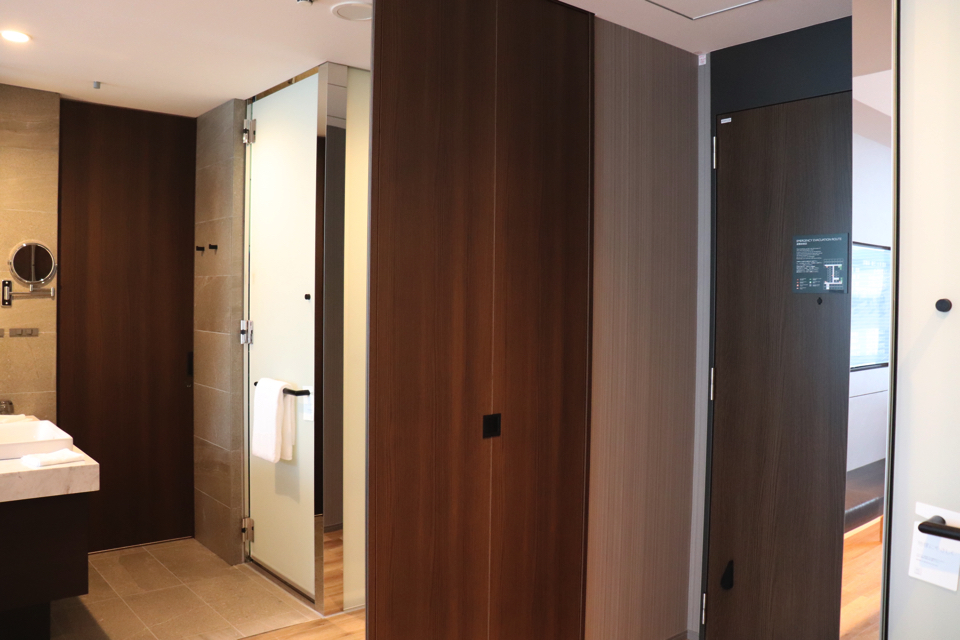 There was a full length mirror next to the closet.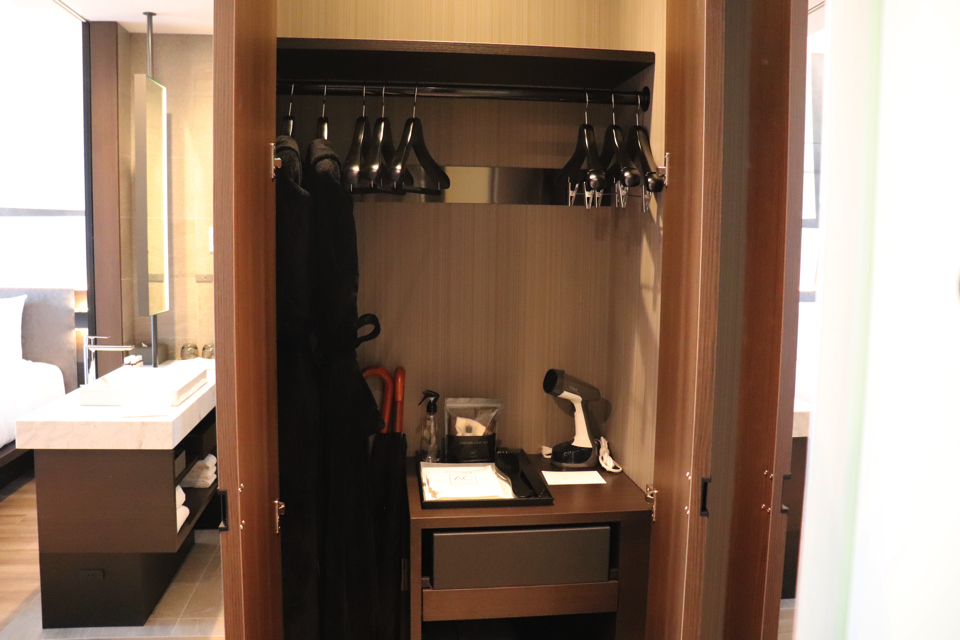 The closet when opened.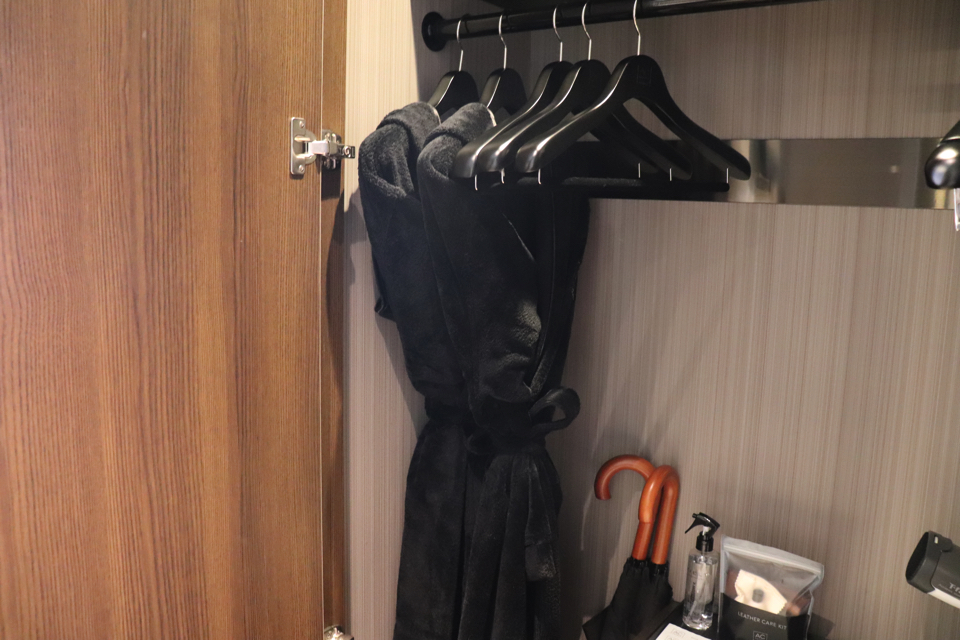 There was a stylish black bathrobe. It was thick and soft, and felt nice on my skin.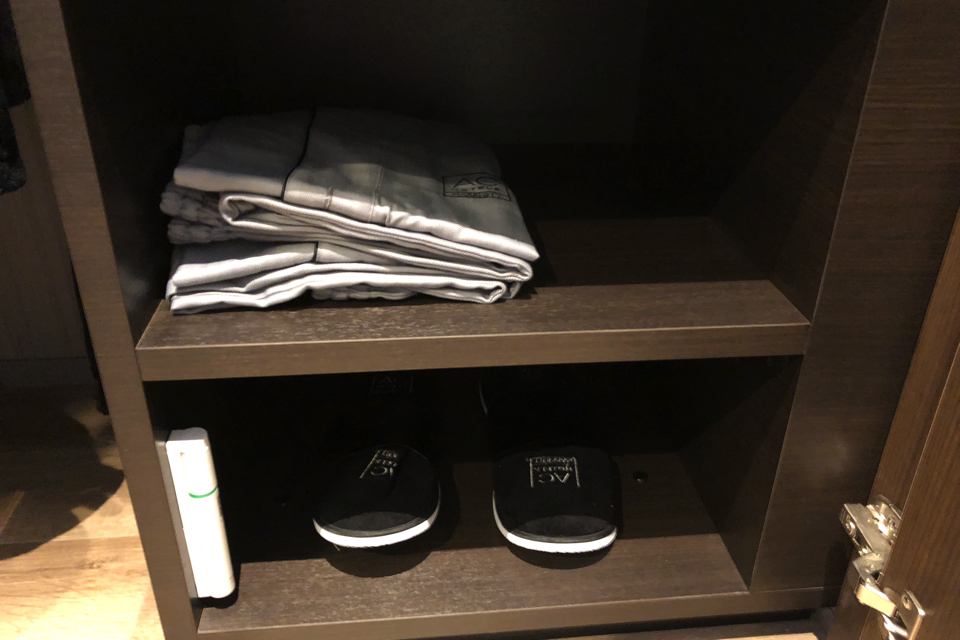 Pajamas and slippers.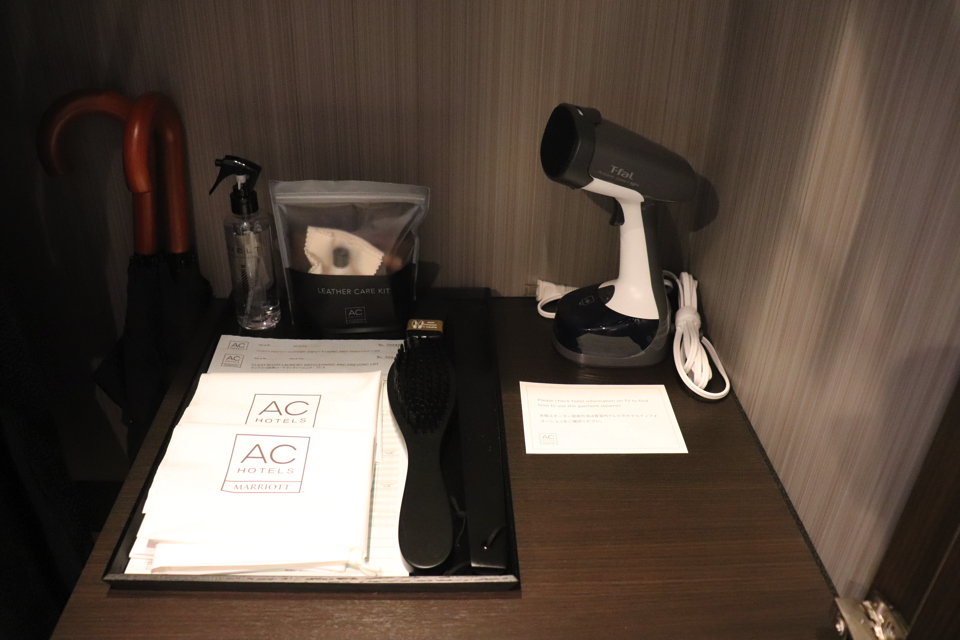 Umbrella, deodorizing/sterilizing spray for clothes, leather polish, shoe polish, clothes brush and a shoehorn.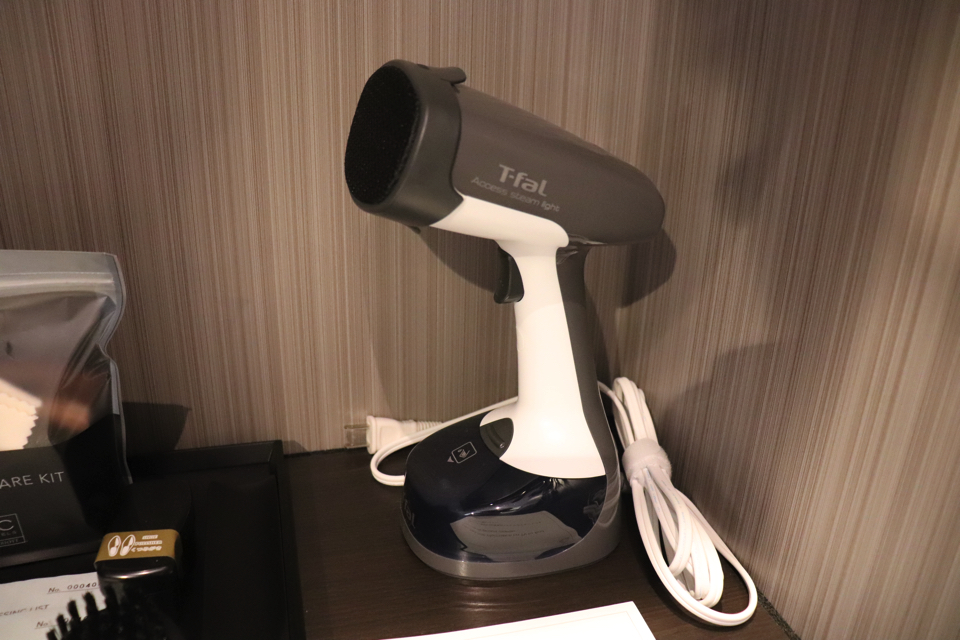 Steamer for clothes.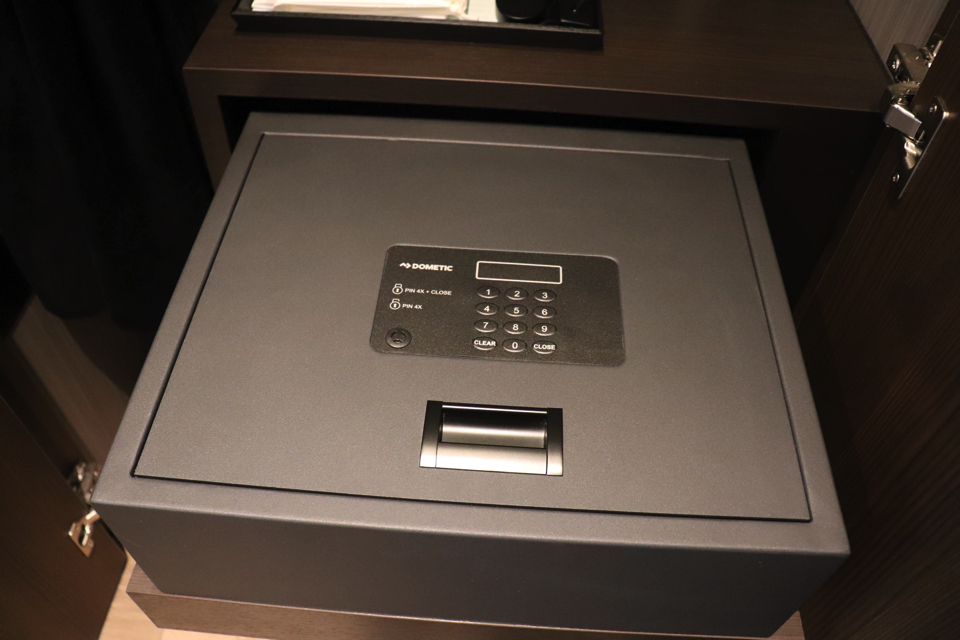 Safe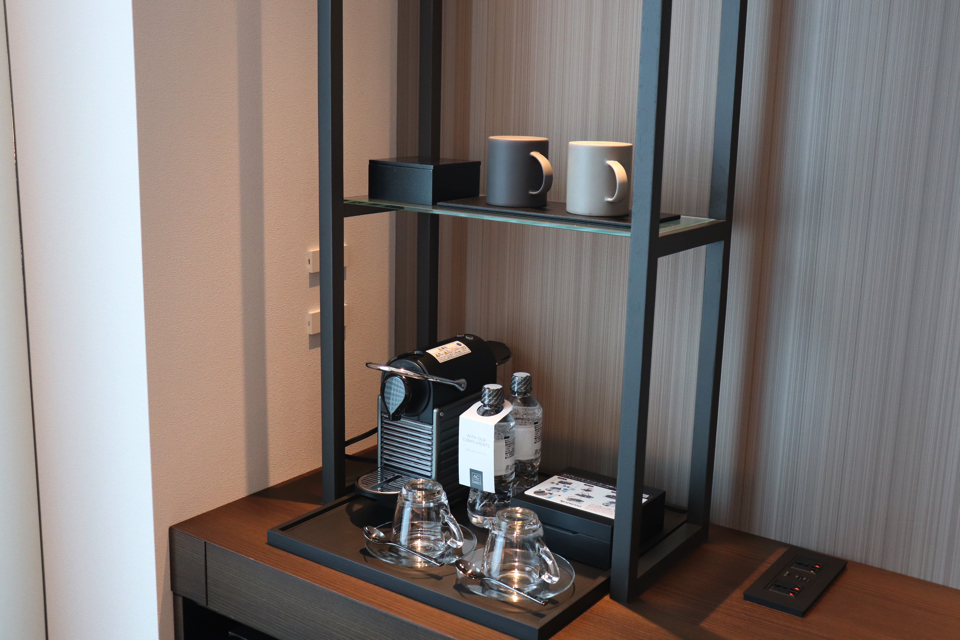 The cafe corner was on the desk.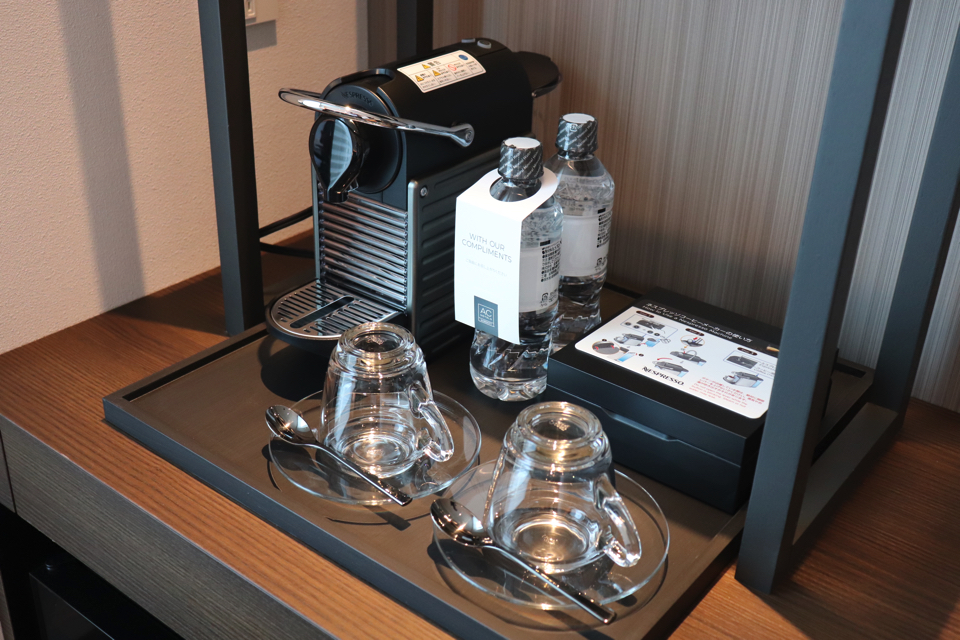 Coffee machine, complimentary water, coffee capsules and coffee cups.
Mugs and a box containing tea bags inside.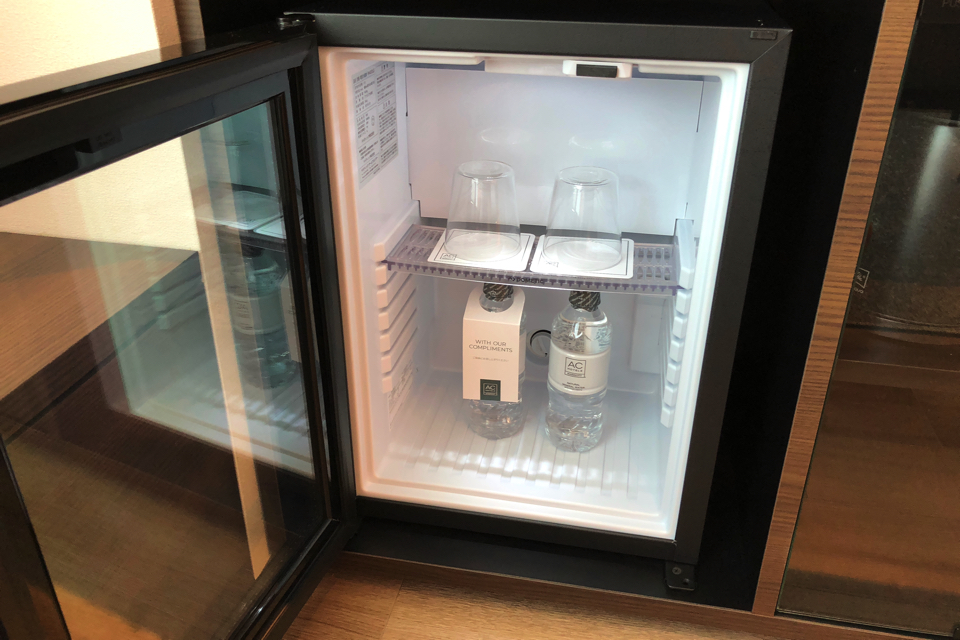 A fridge with a transparent door.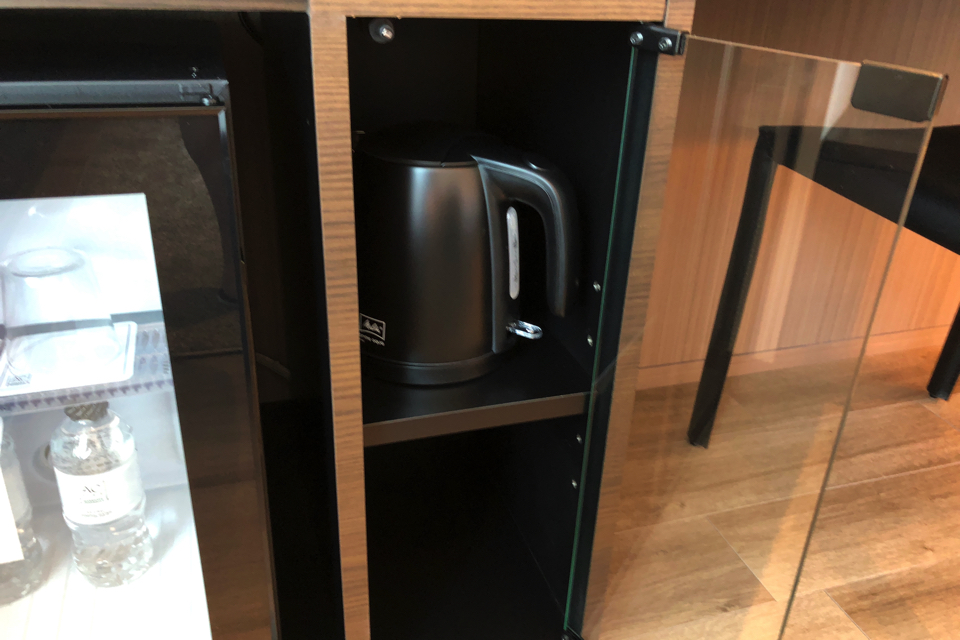 Electric kettle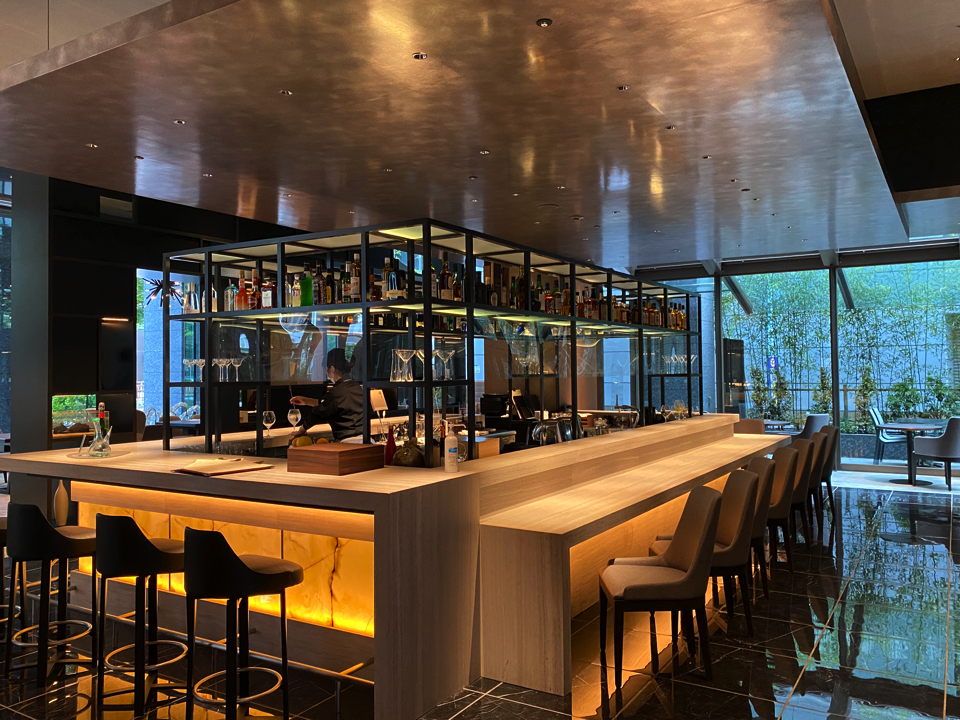 There was a lounge/bar/dining space on the first floor. This bar had a nice atmosphere, but very casual at the same time.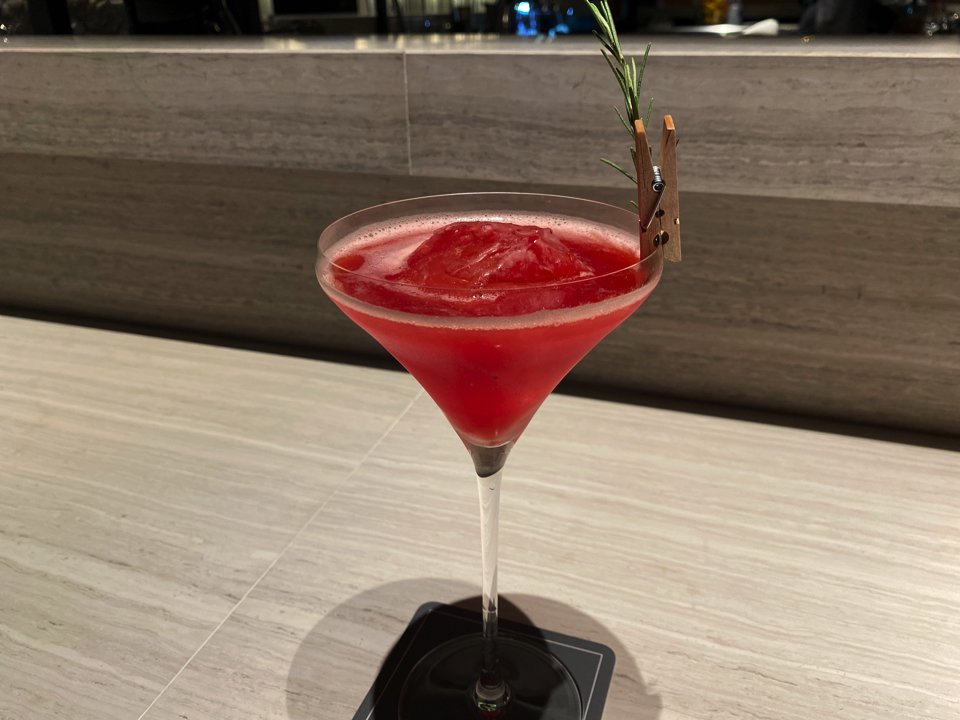 I ordered a non-alcoholic cocktail.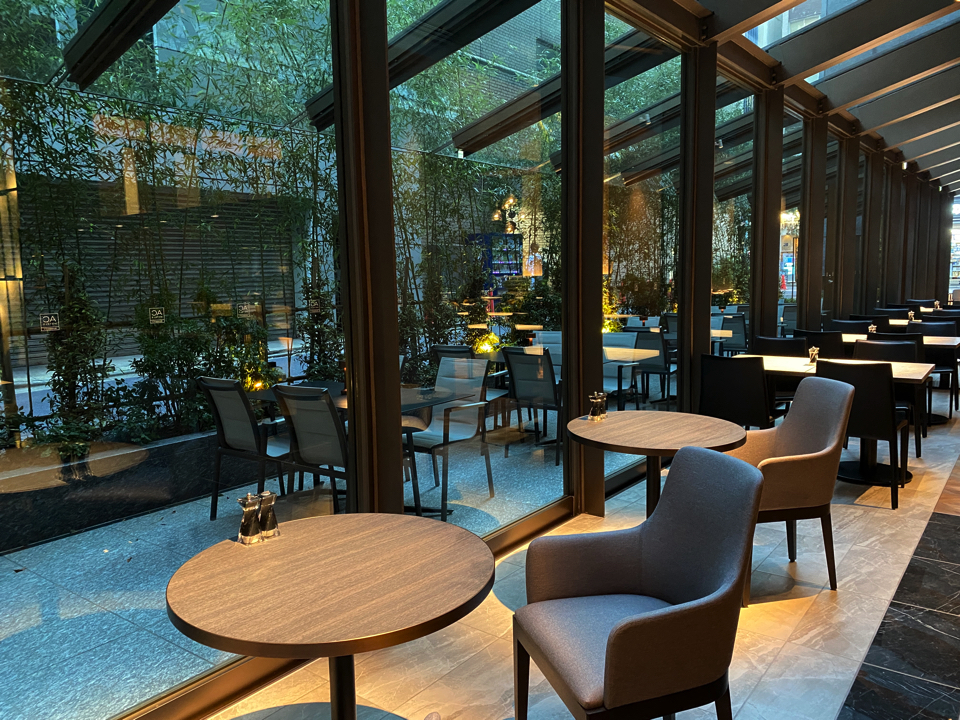 Terrace seating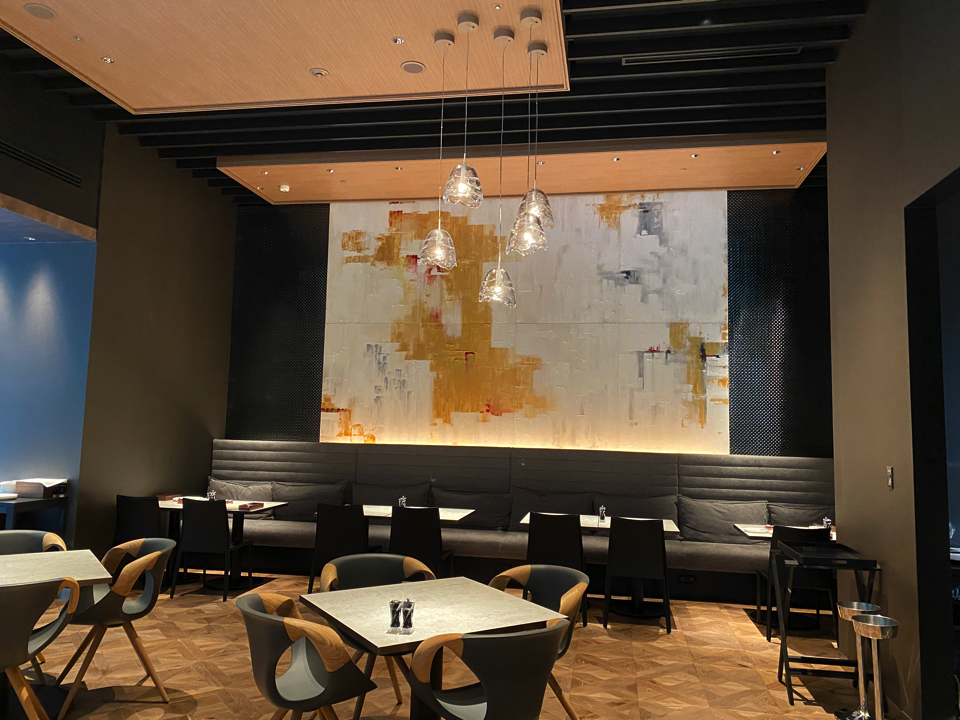 I had breakfast at the AC kitchen.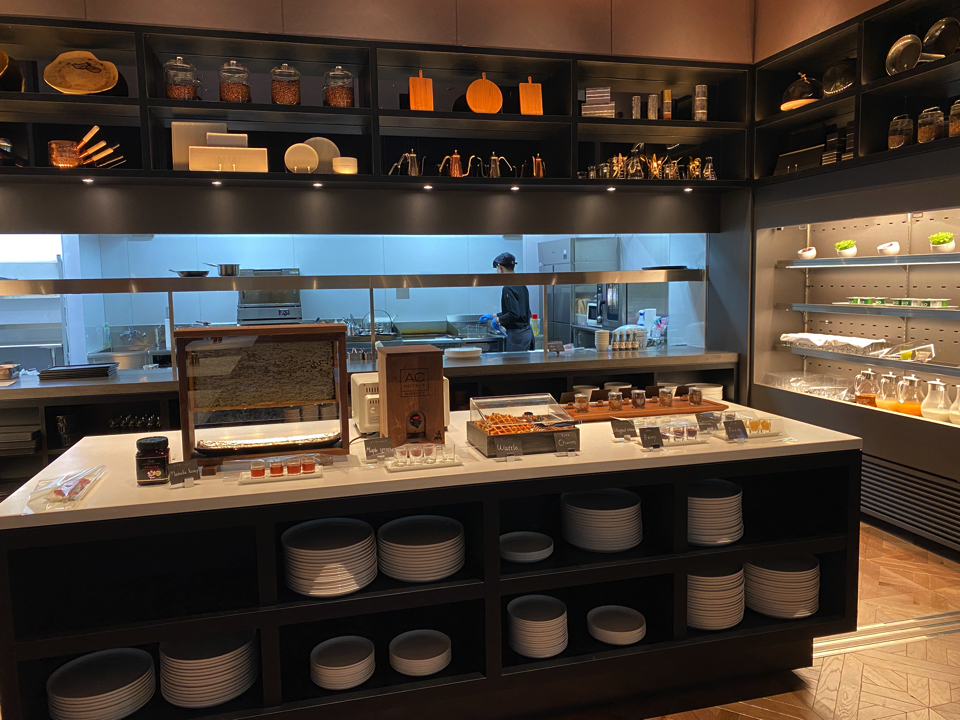 For breakfast, you can choose from either the AC Japanese set or the AC breakfast. In addition, the kitchen provided eggs and noodles according to the order, and donuts and fruits in small portions.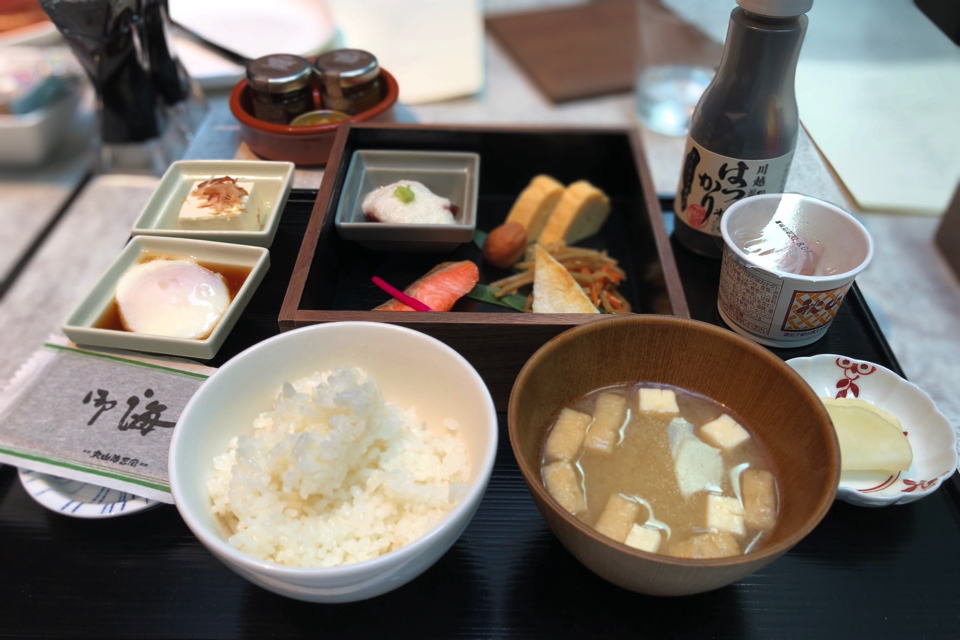 AC Japanese set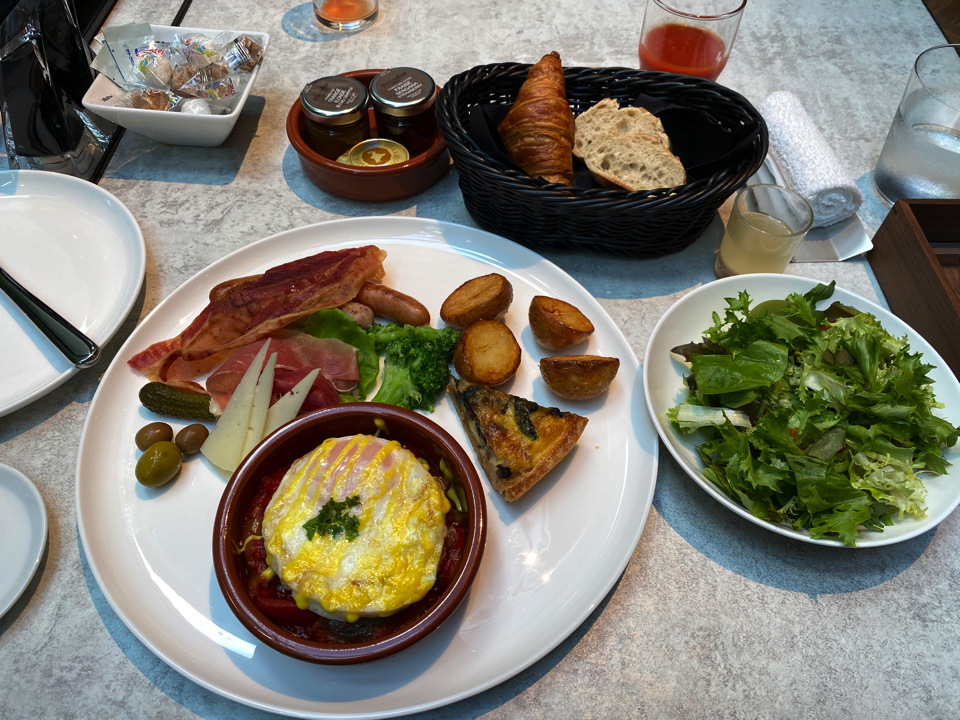 This is the AC breakfast. Both sets were delicious and very filling.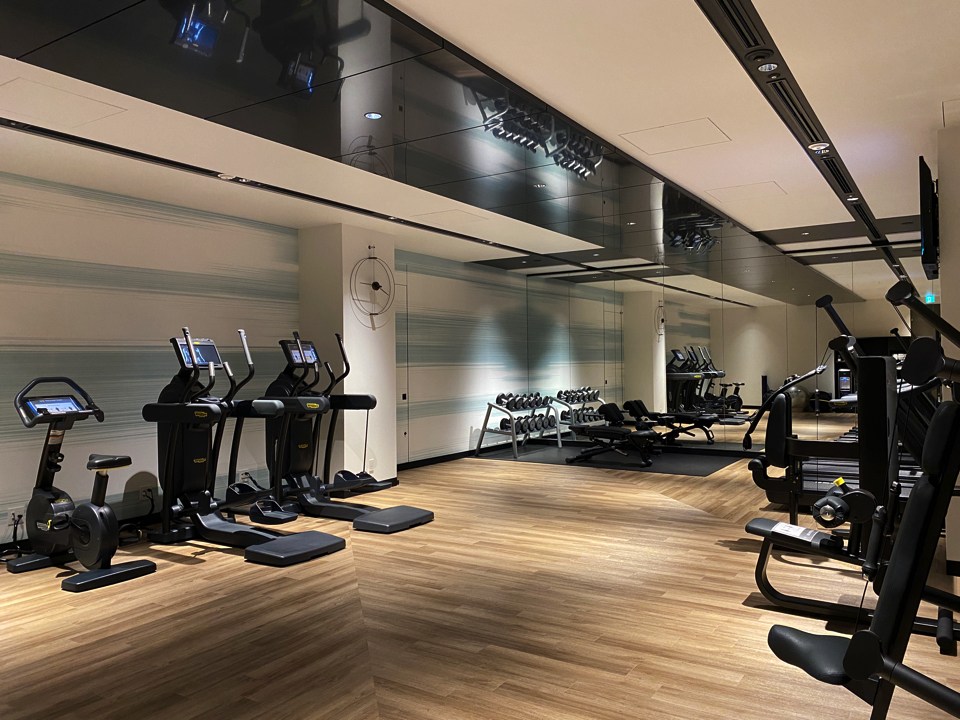 There was gym in the basement. It was spacious with plenty of exercise equipments prepared.
The hotel is located in the center of Ginza with many restaurants and convenience stores nearby. The GINZA SIX is a 1-minute walk away, right next to the area with department stores and brand shops. It's a 3-minute walk to Kabukiza, so you can enjoy shopping, eating and sightseeing in Ginza.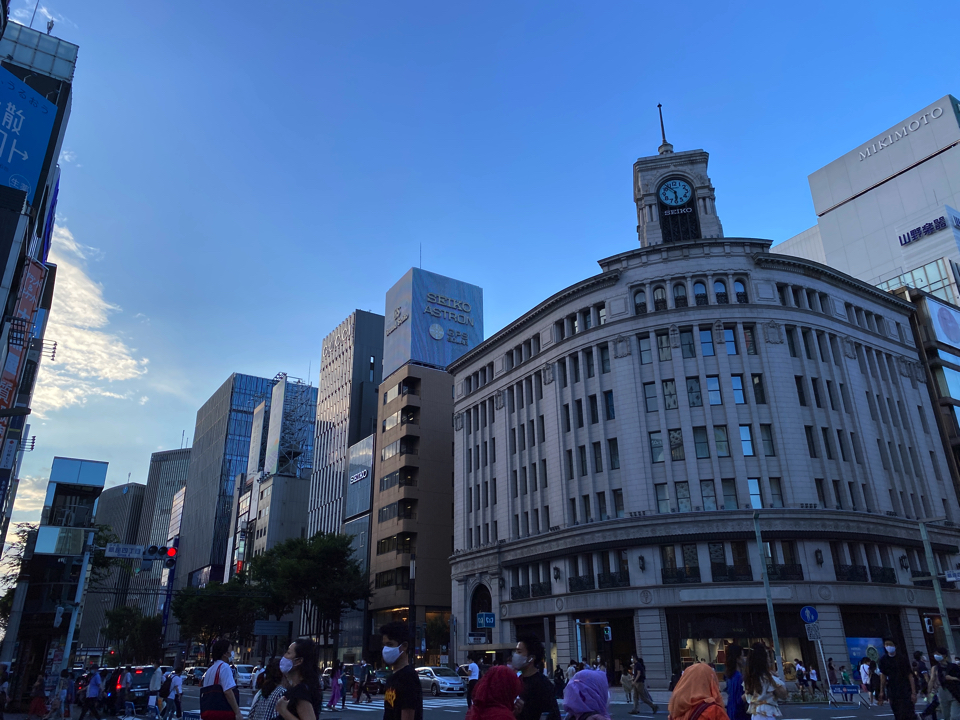 Ginza 4-chome intersection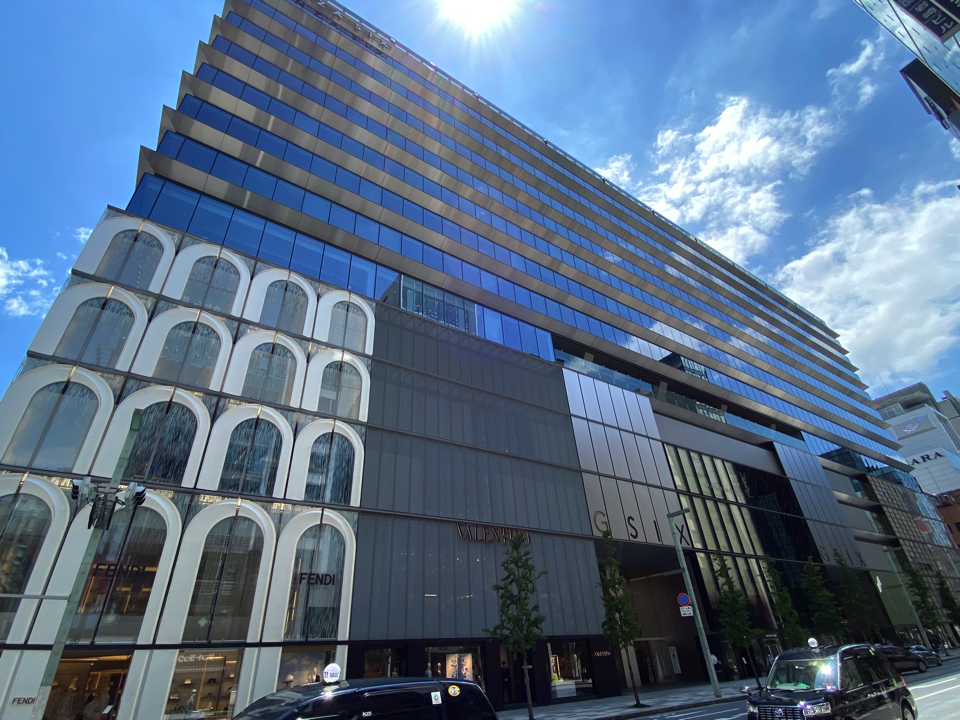 GINZA SIX
The staff responded to me very kindly. It was not crowded due to Covid 19, but I saw some couples staying. This is a hotel with a calm atmosphere, so it seemed more suitable for adults more than families with small children.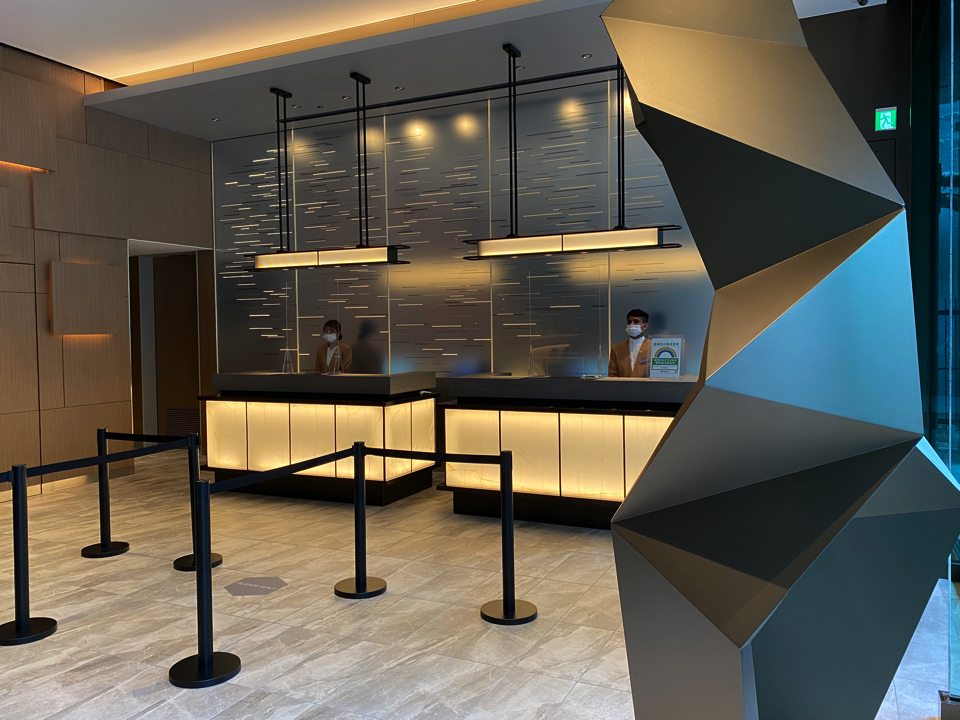 The hotel is located near the station, about a 4-minute walk from Higashi-Ginza and Ginza subway stations. It also has easy access to major stations such as Tokyo Station, Shinjuku Station and Shibuya Station. You can also easily go sightseeing in Asakusa and Ueno. There is a bus that will take you straight to Haneda Airport and Narita Airport, and it leaves from the adjacent building.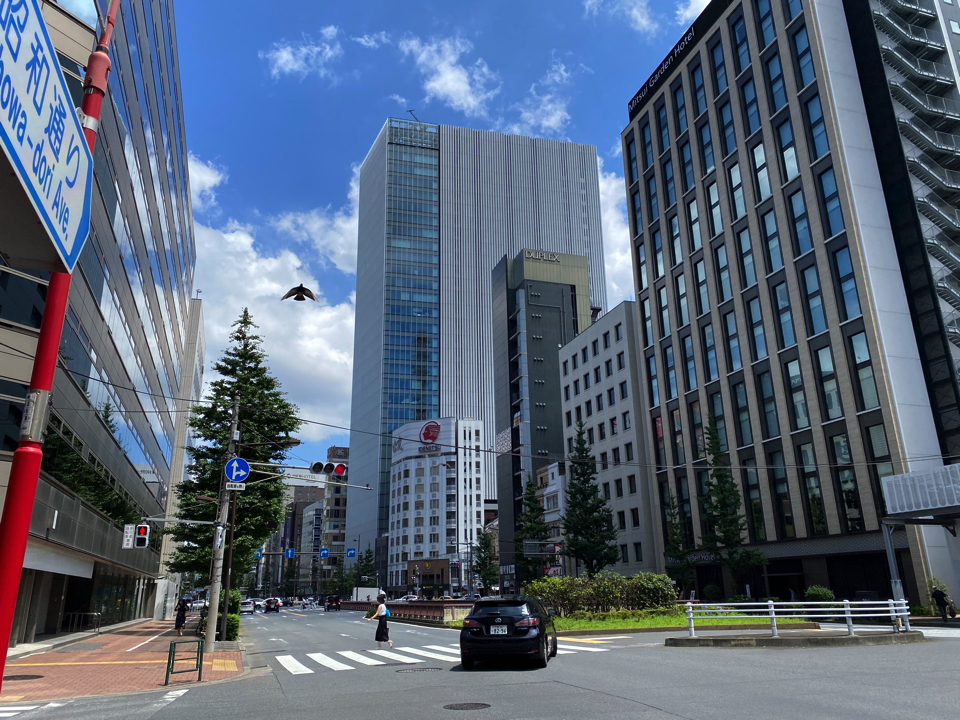 Street in front of the hotel.
I had a nice stay at "AC Hotel Tokyo Ginza." It was stylish with a very nice atmosphere. Since It is a new hotel, it was clean, well equipped and comfortable to spend time in. I was able to get a lot of work done on the spacious desk. This hotel is recommended for those who want to spend a relaxing time and feel refreshed. I had an amazing time at an elegant hotel in the center of Ginza.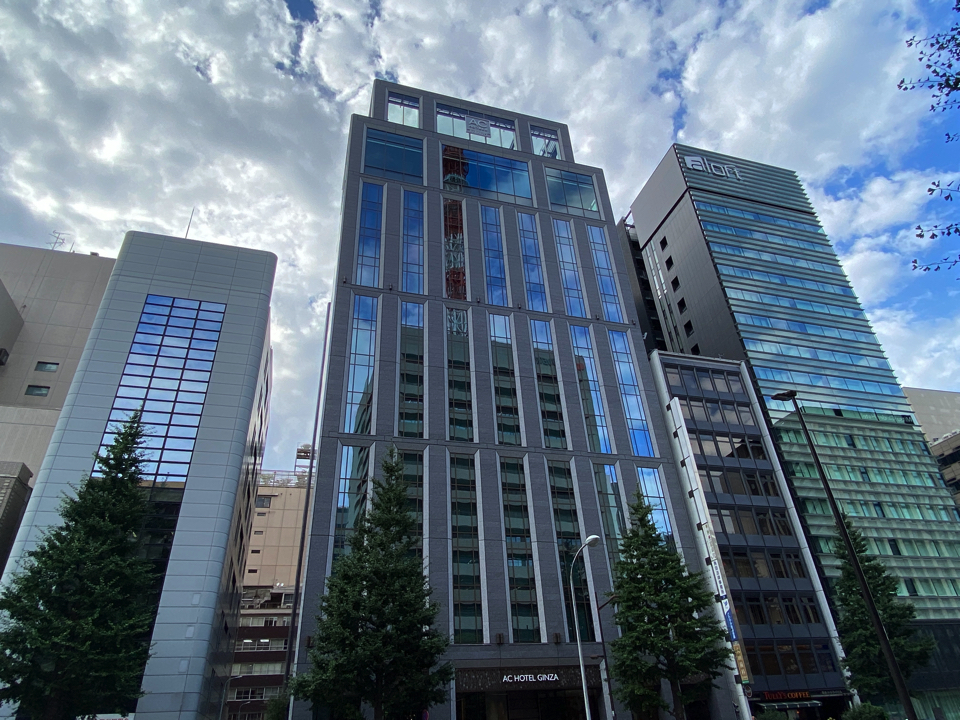 Recommended hotels in Tokyo